This post was created in partnership with StitchFix. Items in the post were provided to me for reviewing purposes. This post also contains affiliate links. All thoughts and opinions expressed are my own.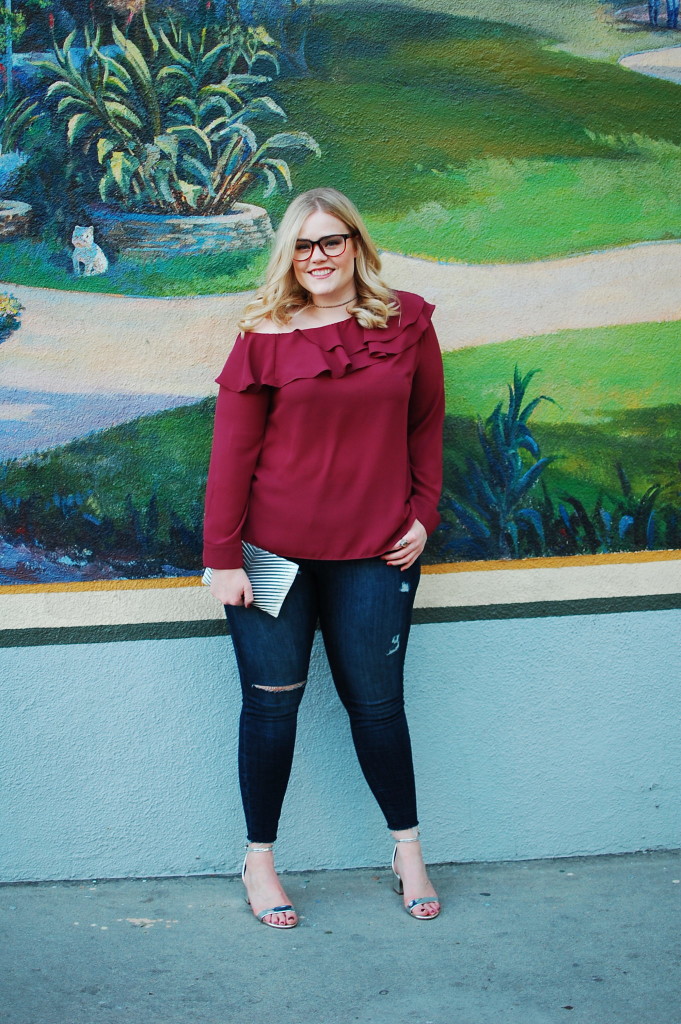 Hey, babes!
I hope everyone has had an incredible beginning to the New Year! Mine has been SUPER productive, and I am so excited to share that I have been spending a lot of my time planning my upcoming trip to New York Fashion Week! It's less than a month away, so believe me when I say that I'm a little stressed getting everything lined up. Back to present day, I'm happy to bring you this month's StitchFix, but this round is a little different… I'm also going to be sharing how to get your best fix EVER by communicating with your stylist, how to truly voice your opinion, and what I feel makes for the best fix.
In case you've been under a rock and haven't heard about the awesomeness that is StitchFix, it is a service that delivers curated pieces to your door as frequently as you like. You fill out a detailed questionnaire, including how much you'd like to spend, your body shape, areas you like to flaunt/hide, and so much more, so they can really get to know your style. You send back what you don't like, and they only keep the $20 styling fee if you don't purchase anything from the fix, otherwise it goes towards whatever you buy, AND you get 25% off if you buy everything.
First up, communication is KEY! There are several ways to make your voice heard with your stylist. The one I always get very detailed on is the "note to stylist," where I can request specific pieces for events, certain fabrics, lengths, anything that I would like to wear in the next couple months. When I was headed to Vegas year before last, I requested a "Vegas-worthy midi dress," and for a brunch with the girls, I wanted an "off-the-shoulder floral top," and that's exactly what I received. I love that the stylists try so hard to match up my requests, and sometimes I wonder how much time they must spend searching for the perfect item for me!
I've also thrown out pretty broad requests, like in this fix, I wanted a pair of dark distressed jeans, colored blazer, and another midi dress. I was super happy with the pieces they selected, although the blazer was just a touch snug, so I'm currently wearing it as a cape! It's also important to give feedback on past fixes, such as when something was too tight in the hips (usually the case with button-down shirts for me), or too short (I generally don't wear anything above the knee). Once your stylist knows your tastes and fit more in more depth, they can use that info when planning your next fix.
Another way to share your style preferences is through creating and sharing a Pinterest board. We're already all spending hours a day on Pinterest anyway haha, so start creating a board of styles you would actually wear, and link it for your stylist in your StitchFix profile! I have tons of midi skirts, floral prints, comfy cardigans, and fun work looks on mine. I know my stylist references it whenever she's planning a fix for me, because influences from it are so apparent with her choices. It's also so important, I believe, to focus on your lifestyle and what you truly will wear. If you work an 8-5, only go out to meet the girls for brunch, and don't like showing your legs, than it's probably not the best idea to link a street-style thigh-grazing look that you'll never get any use out of. By the same token, if you'd like to get a little adventurous with color, patterns and prints, and maybe highlighting your décolletage for instance, don't be afraid to share some pins that pull elements you'd like to experiment with.
I hope these tips have been helpful for you! It's taken me a little bit to get my bearings with the service, but as you can tell by this being my 28th fix (!!!), I truly am enjoying it. StitchFix is offering to all of my readers their first styling fee waived! Now you have nothing to lose, and a closet full of cute clothes to gain 😀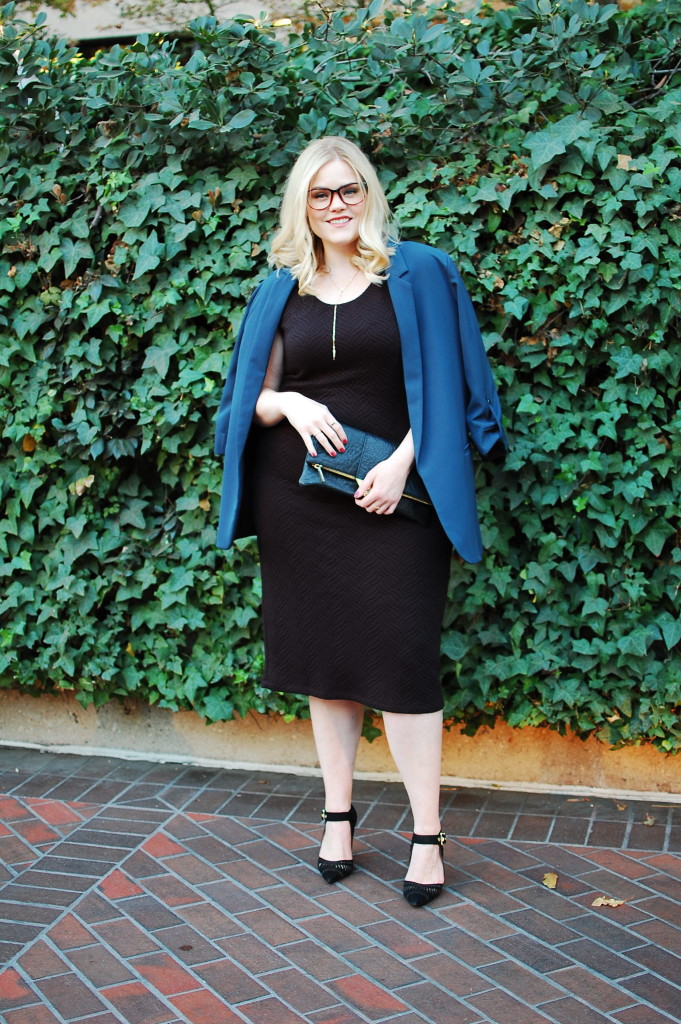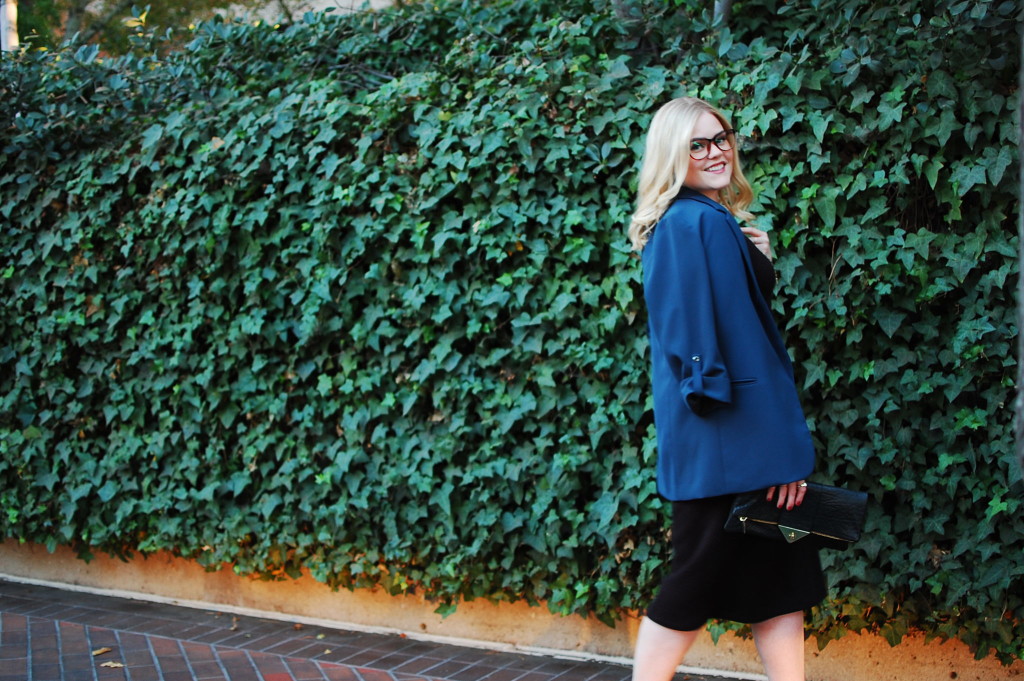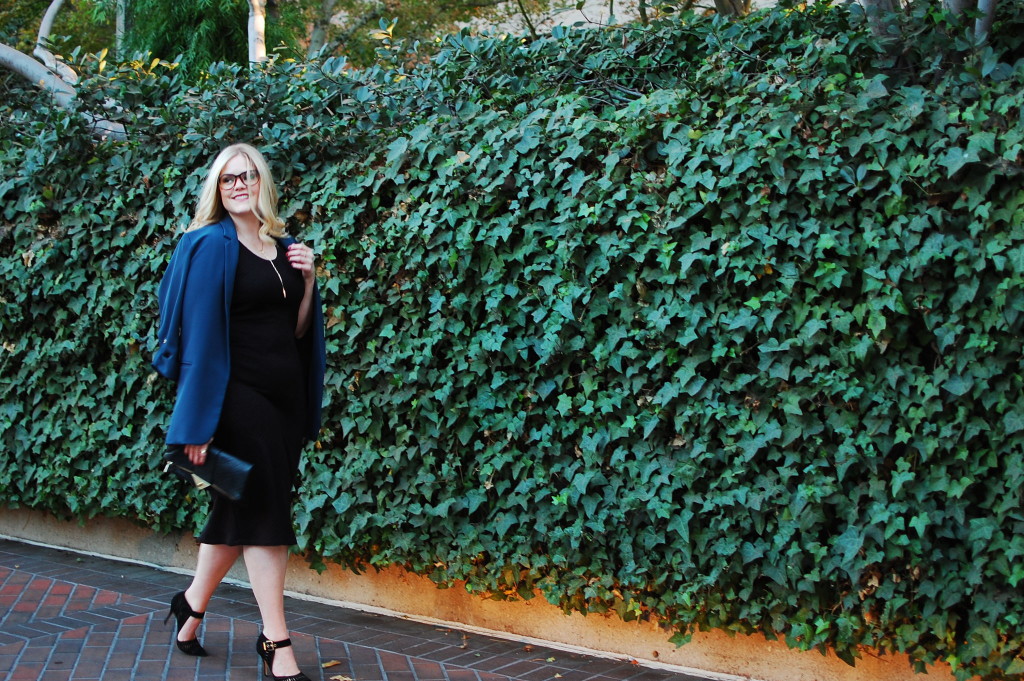 Jacket and midi dress c/o StitchFix // Heels / Nordstrom Rack // Clutch / TopShop // Necklace Luv AJ // Glasses / EyeBuyDirect
The color of this blazer is so unexpected, and actually pairs with more in my closet than I anticipated. I can definitely picture pairing it with a floral skirt, or jeans and a white tee.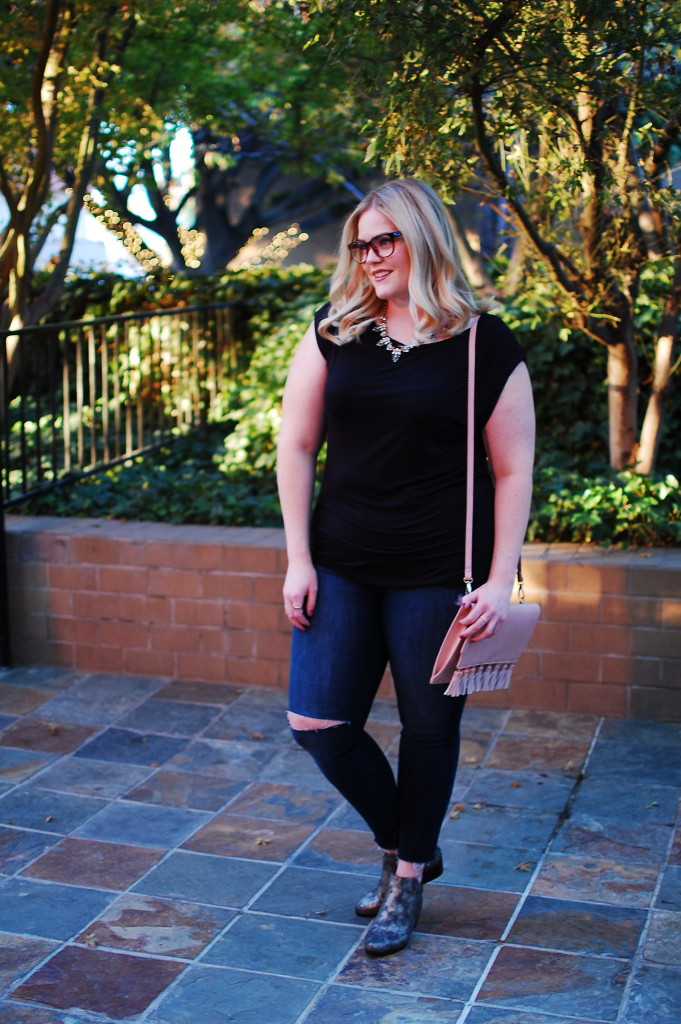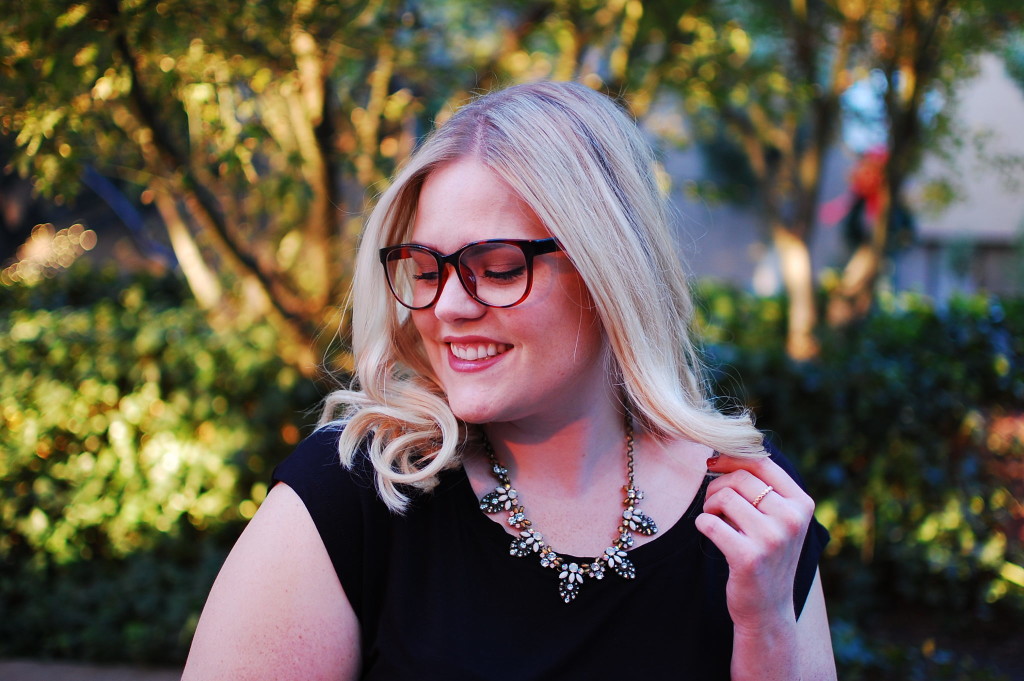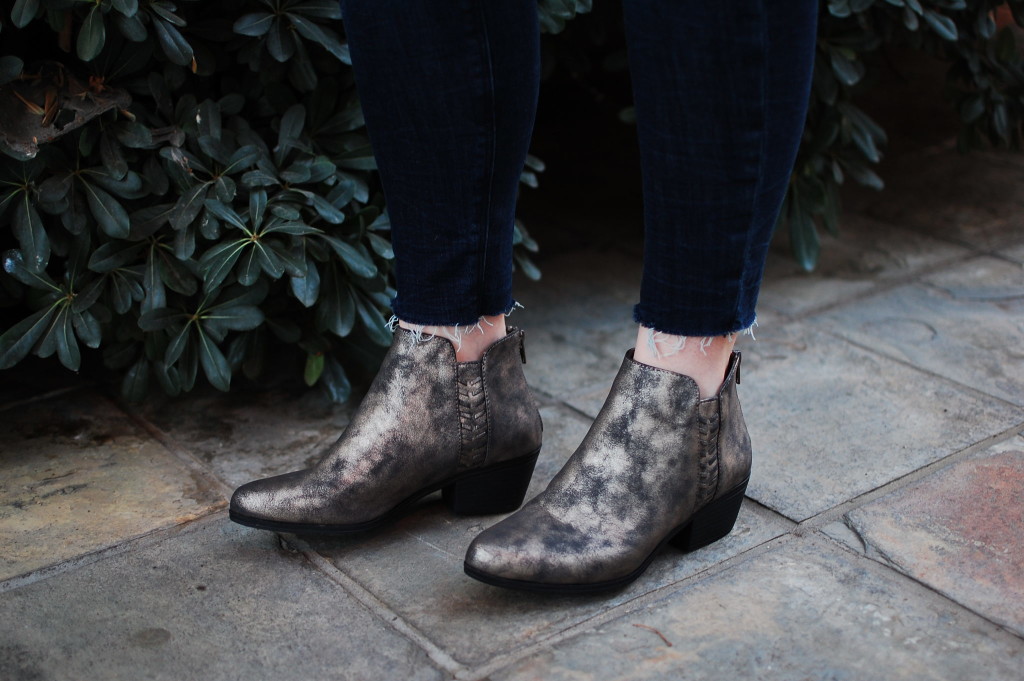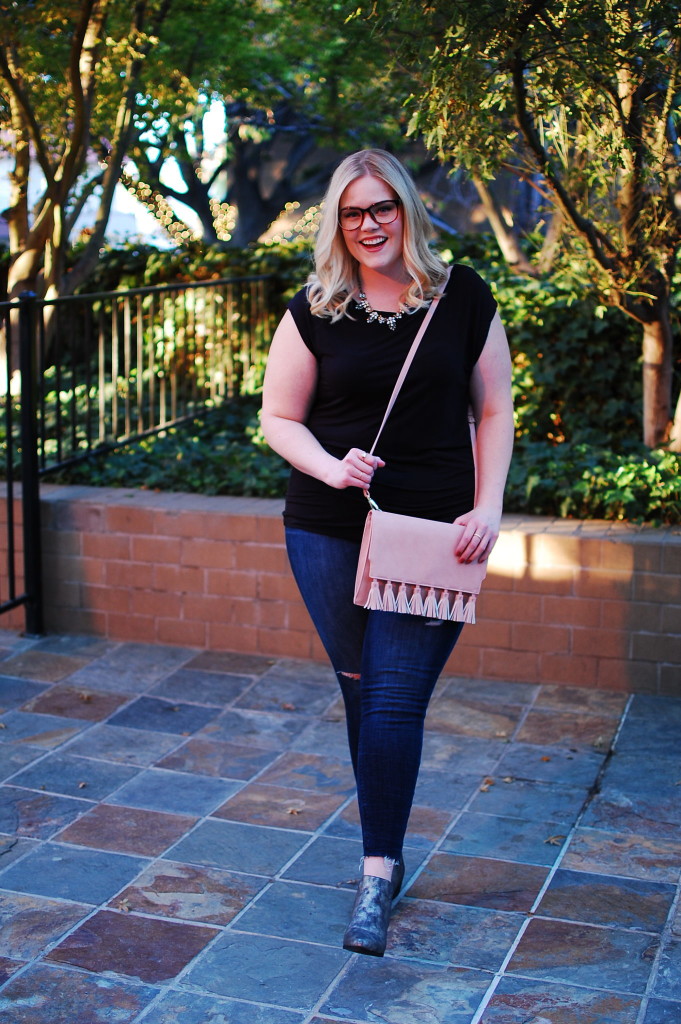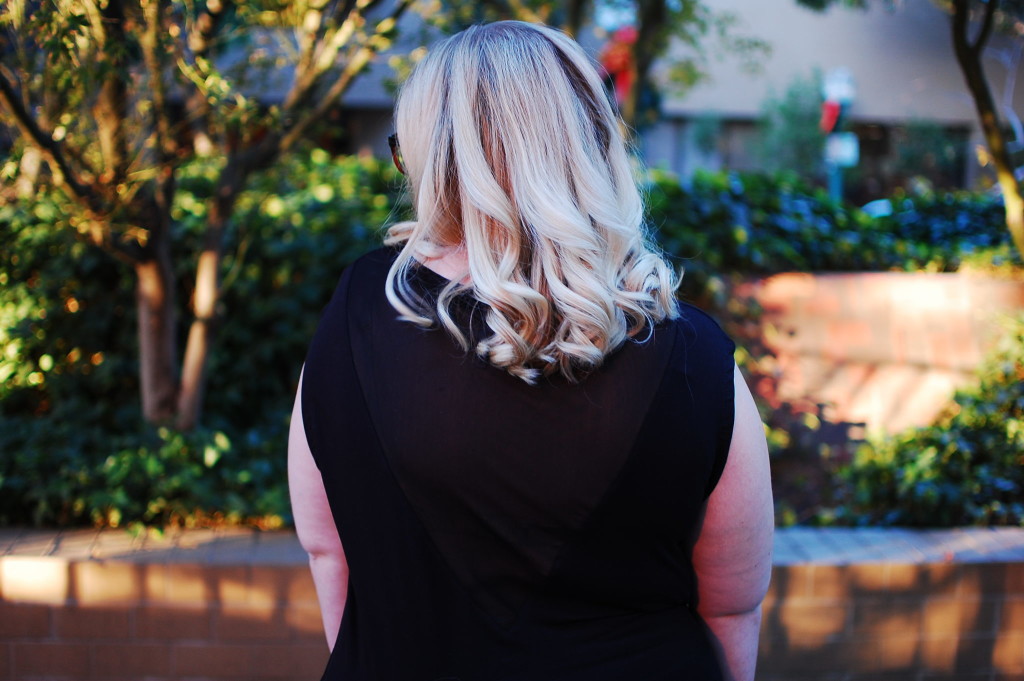 Top and jeans c/o StitchFix // Booties / JustFab // Necklace / Rocksbox // Glasses / EyeBuyDirect
The mesh cutout on the back of this top is such a cute and interesting detail! I loved making a jeans and tee combo just a little bit fancier and brunch-worthy by adding a statement necklace and gold-specked ankle booties.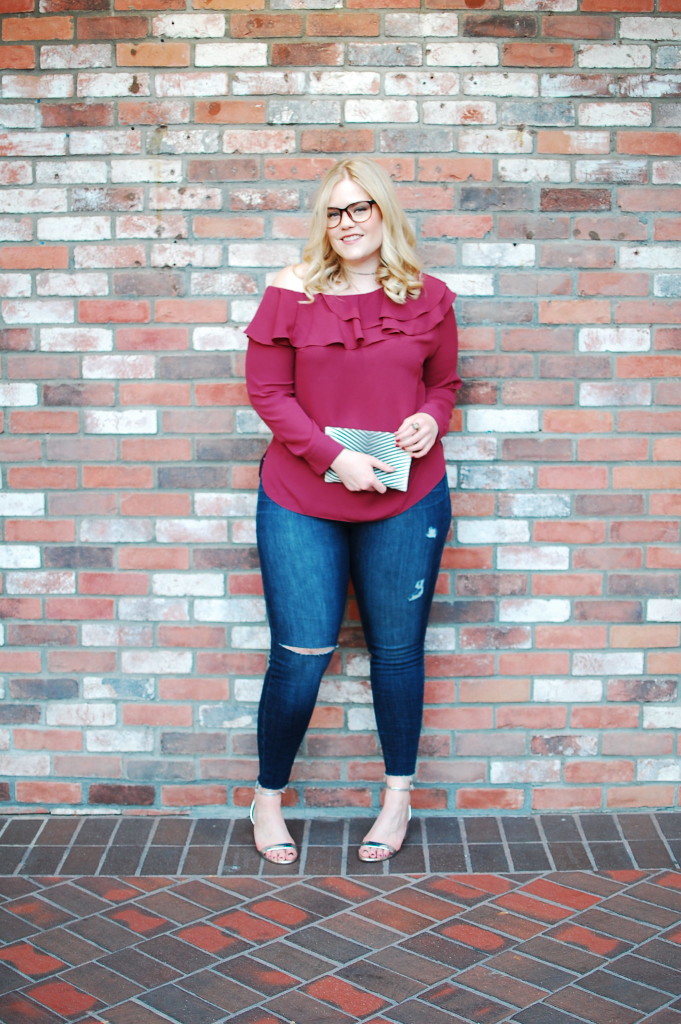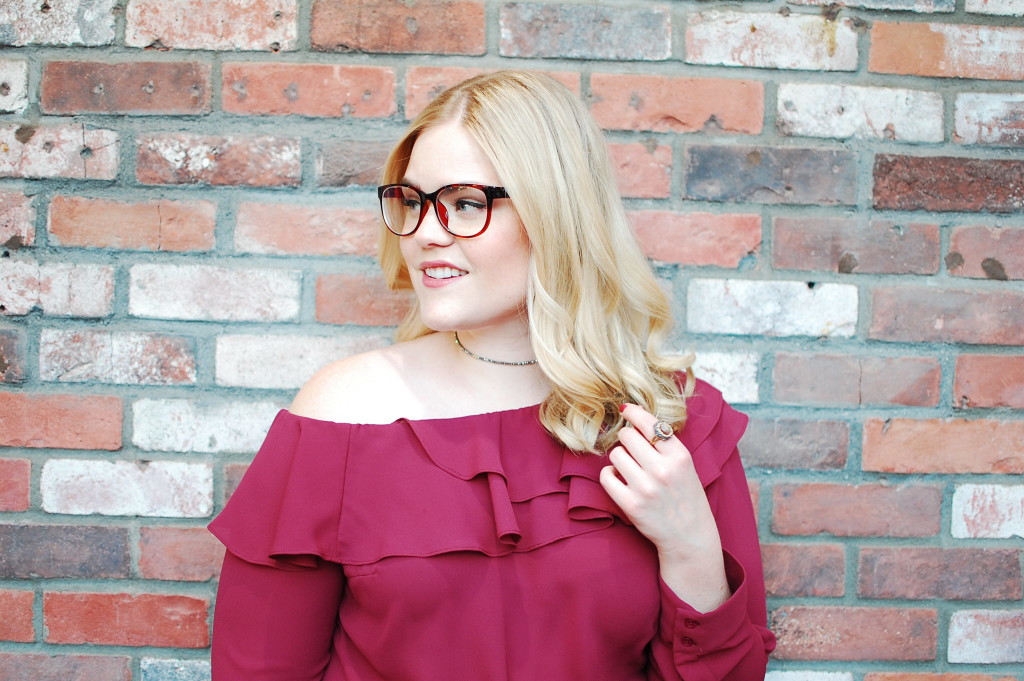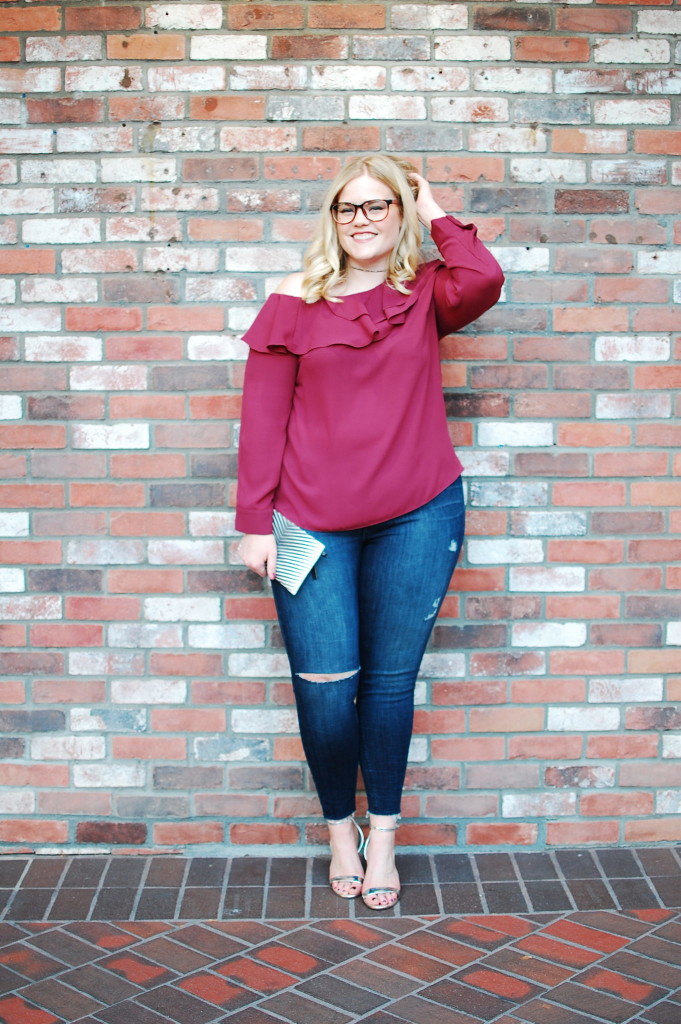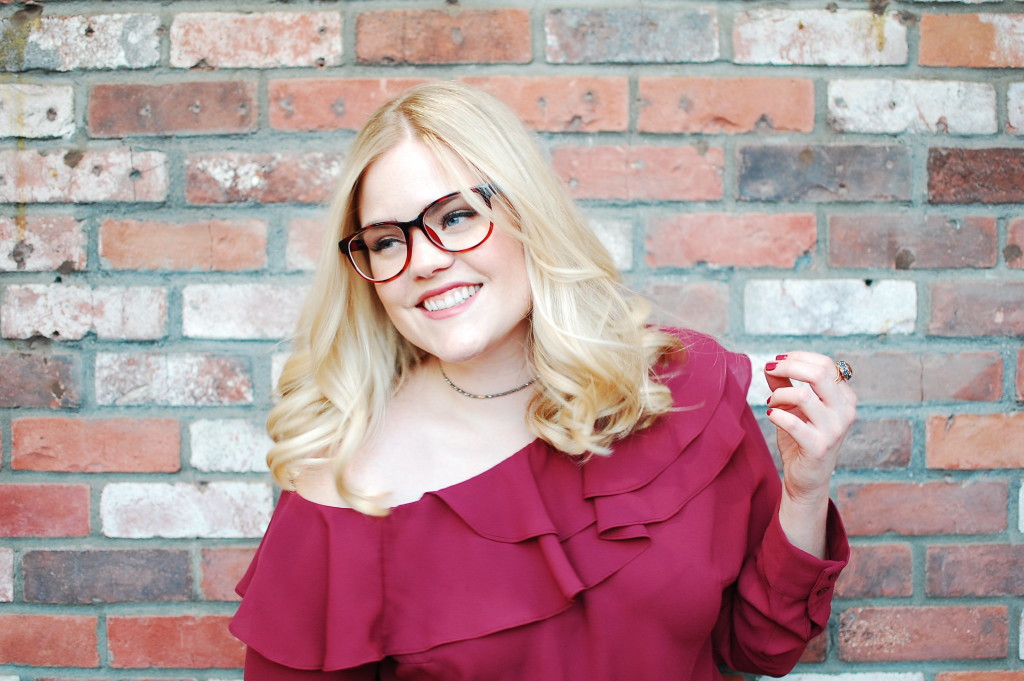 Top and jeans c/o StitchFix // Necklace / gift // Ring / LA gift show // Metallic sandals / JustFab // Glasses / EyeBuyDirect
This top is definitely my favorite find of the fix. Mark and I went out to date night in this very outfit after my shoot, and I definitely turned some heads! The color is so saturated and the ruffle neckline is very flattering!
Don't forget, all of my readers get their styling fee waived on their first fix! Hope you enjoy!