Hey, babes!
I knew I wanted to do a review of some of the beauty mists/waters/face sprays that I owned, but it wasn't until I gathered them all in to one place that I realized how many I'd amassed over the past six months! These types of products have become so trendy recently, and I really do enjoy keeping one in my purse on a daily basis, but because there are so many different options, I wanted to put together a thorough review so you all didn't have to test 'em out yourselves!
Some are just for refreshing the skin, others for setting your makeup, but there are a lot of multi-taskers out there too. I'm covering portability, packaging, makeup-setting ability, scent, and how well it refreshes the skin. I said thorough, right?! 😀
Hope you enjoy!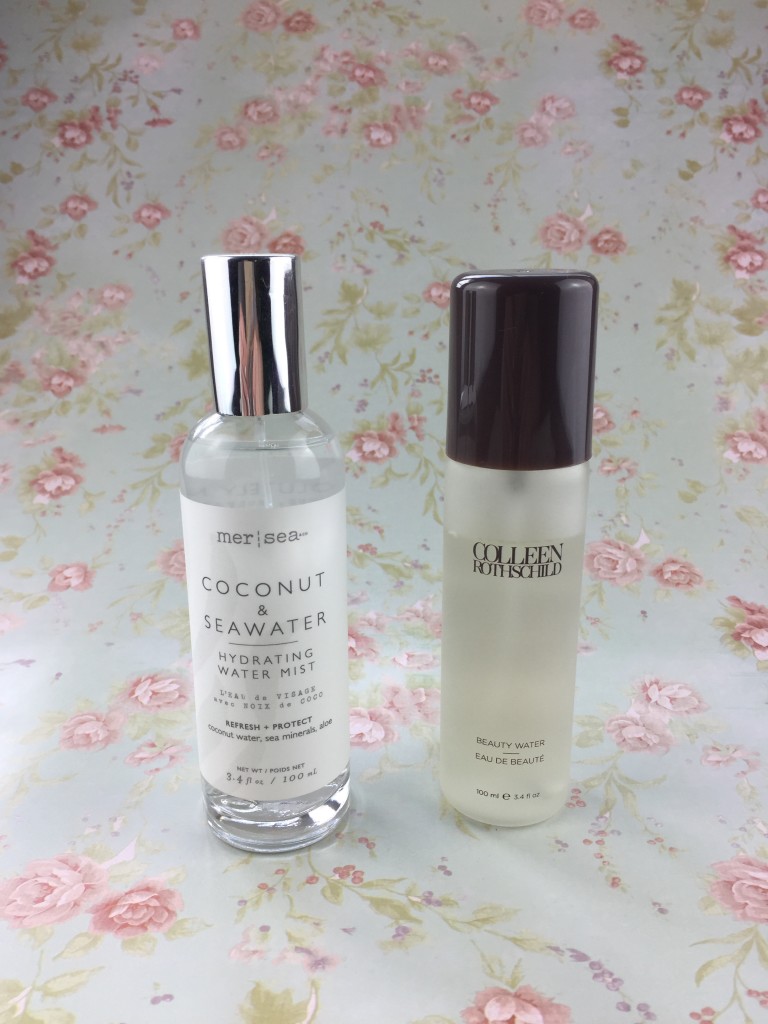 Mer Sea Coconut & Seawater Hydrating Water Mist, $32.
I purchased this as a FabFitFun add-on, but let me say I would never spend $32 on a facial mist, no matter how good it is. This spray has a lovely light scent, and was very refreshing when applied halfway through the day, however, it did very little to set my makeup. The bottle is gorgeous, but since it's glass, it's not very portable at all. All things considered, I rate this 3 out of 5.
Colleen Rothschild Beauty Water (c/o), $28.
Also, on the pricier end of the spectrum, this one has great ingredients like hyaluronic acid to help provide skin with moisture, which this absolutely does. Pros are the ingredients, the airy fragrance, and how refreshing it is. Cons are the packaging, (this did leak on me), and the spray is sometimes more like a squirt instead of a fine, even mist. Rating this 4 of 5.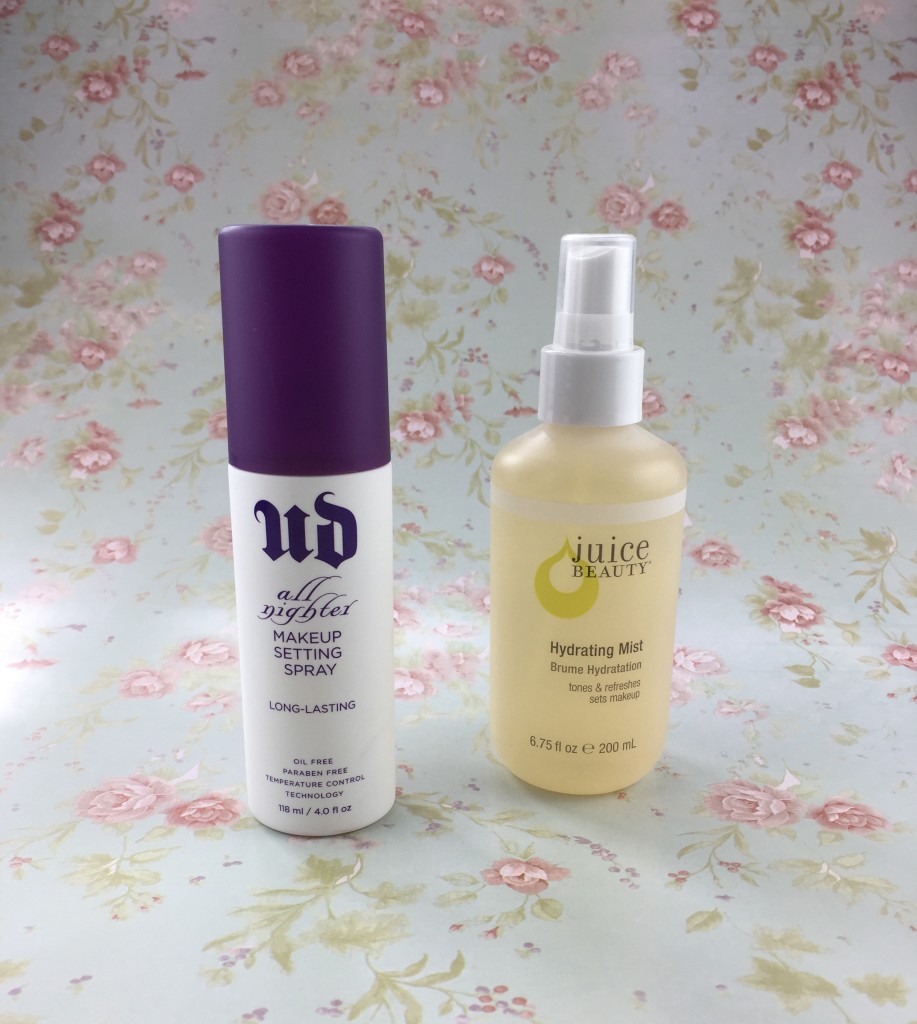 Urban Decay All-Nighter Makeup-Setting Spray, $32
As far as I can tell, the packaging on this product changed, but the ingredients did not, so I still feel comfortable reviewing it. I got this on sale at Ulta, I'm assuming because they were changing the aesthetic of the bottle. I paid $19, a more reasonable price as opposed to full retail. The spray does not come out evenly, and at 4 oz., its not very portable. It does do one hell of a job at setting makeup, but would be too heavy to re-apply throughout the day for a refresher. Rating this one 3 of 5.
Juice Beauty Hydrating Mist, $24
Fantastic at setting makeup, surprisingly, and it also has some stellar ingredients, like rosehip and grapeseed oil. This one felt lovely as a perk-me-up mist after a full day of work, but the smell is a little off-putting. It starts off very rose-heavy, but dries down to have an unappealing "green" scent. At 6.75 oz., it's not the most portable bottle, but I do like the overall packaging. Rating 4 of 5.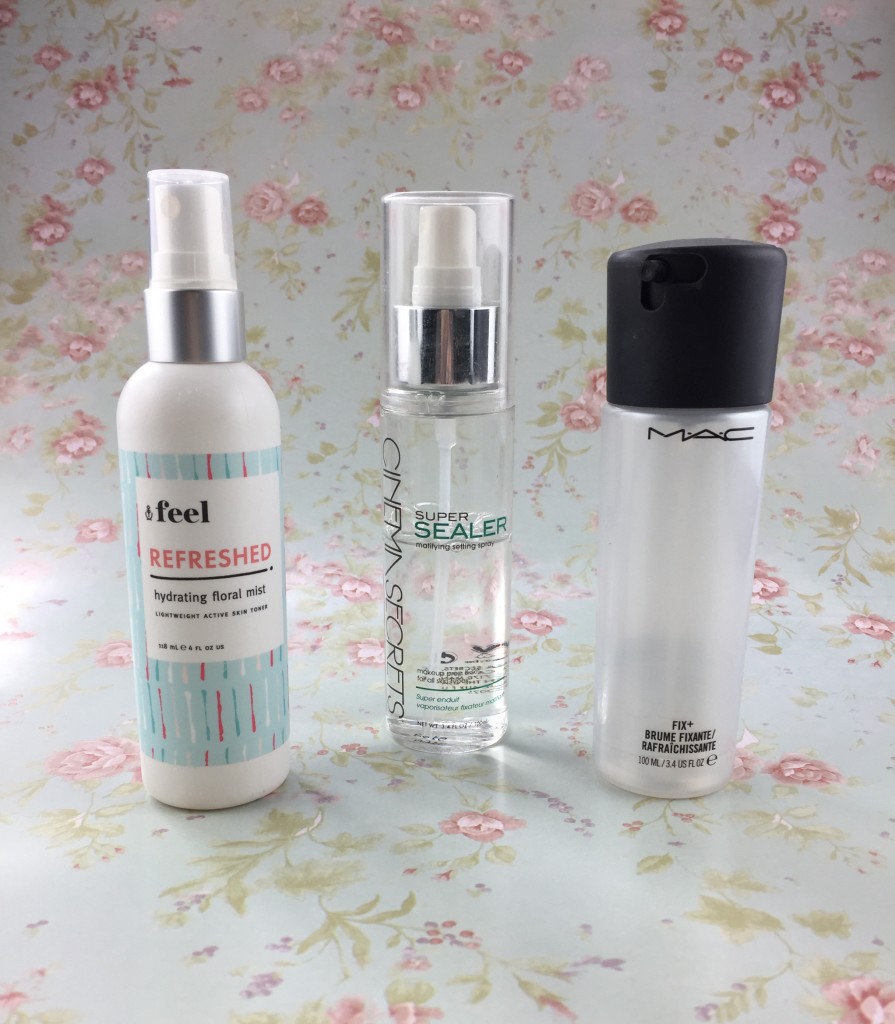 Feel Refreshed Hydrating Floral Mist, (c/o) $32
Obsessed with this bright and cheery packaging. This mist helped my eye makeup set, but not really my face makeup, which was weird. My blush was non-existent, but my eyeliner was on point! The scent is really nice, like a soft herbal aroma. It feels great to spray on and has such a fine mist to really cover your face in just a couple sprays. Overall 5 of 5.
Cinema Secrets Super Sealer, $24
This is actually the first mist I ever started using a couple years back, primarily because it is the SHIT at setting your makeup. Seriously, I've never used any other product that just locked makeup in place all day like the super sealer, it totally lives up to it's name! Every makeup artist should have this in their back pocket. No smell, I don't mind the packaging, and it does spray evenly. Low marks are for the mid-day refresh, because this mist is quite heavy on the face to be re-applying. I have it in a couple of smaller bottles for travel, too. If based on makeup-setting alone, it would be a 5 of 5, but for an all-around beauty mist, I have to rate it a 3 of 5.
MAC Prep and Prime Fix+, $25
I've mostly used this to mix with eyeshadows, and you can tell I've used it a LOT, plus this is my second bottle. As a makeup-setting spray, it's pretty good but not great. I love the packaging, because you can twist the lid so that there's no change of rogue spritzing, and it does have a pleasant smell, but the pump actually stopped working as I was writing this post. No bueno. Partially because of that, I'm giving it a 2 of 5, because you kind of need the product to spray 😉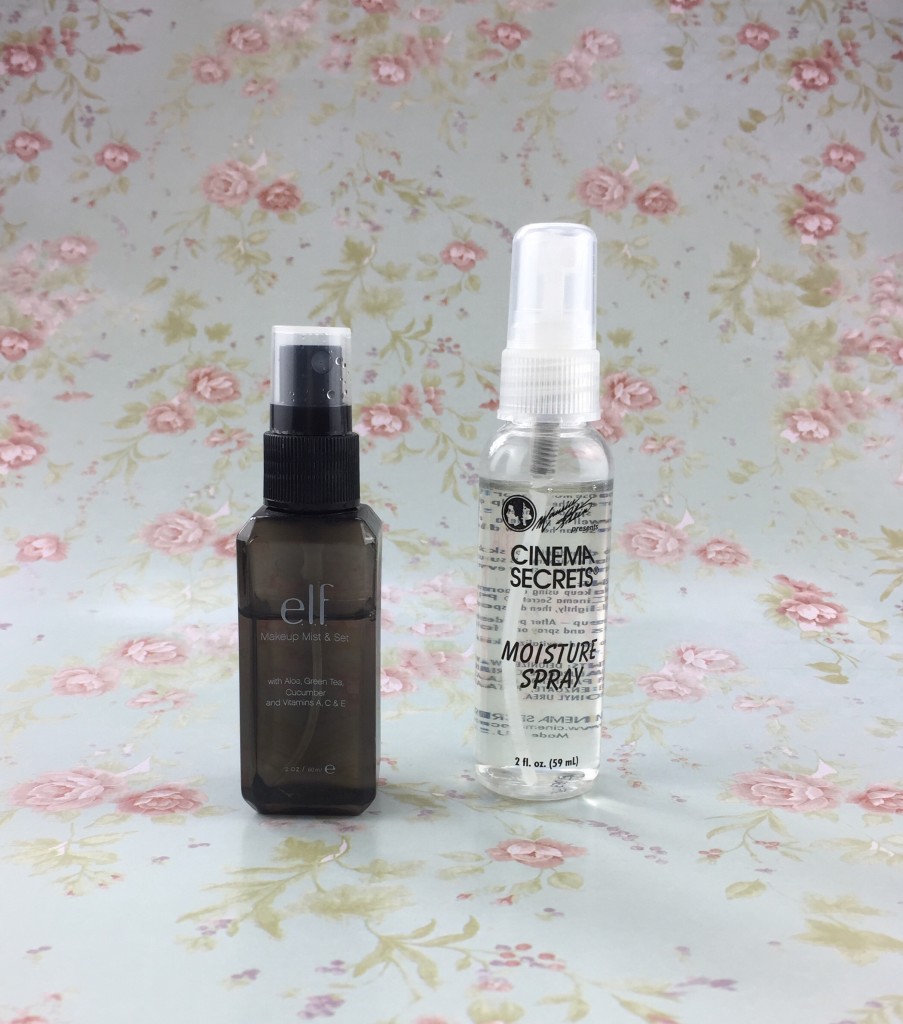 e.l.f. Makeup Mist and Set, $3
Let's be honest, the packaging on this one is the least appealing of the bunch. It's quite portable at the 2 oz. size, but has a quite unappealing scent, kind of like expired chemicals? It has a really nice even spray, but also did nothing in terms of setting my makeup. I generously will give it a 2 out of 5.
Cinema Secrets Moisture Spray, $22 (larger size, different packaging)
A lovely fine mist sprays from this little bottle, and it does feel refreshing, but didn't save my face through even half of the workday, and also has a not-so-great scent. Giving it 2 of 5 as well.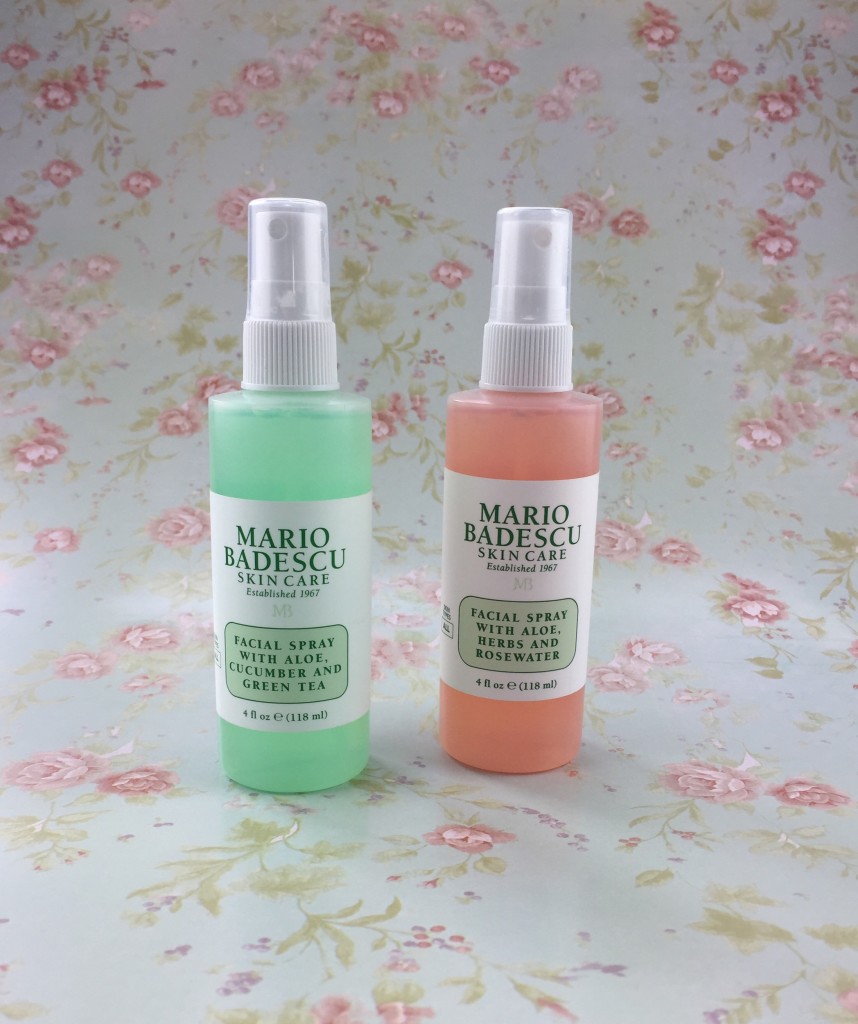 Mario Badescu Facial Spray with Aloe, Cucumber and Green Tea, $7
Really enjoyed this spray and how it made my makeup look even more vivid somehow, and kept it set for hours upon hours. My skin felt less tight after a mid-day mist, and the slightly "green" scent is really uplifting. 5 out of 5 for sure!
Mario Badescu Facial Spray with Aloe, Herbs and Rosewater, $7
Love the slightly medicinal-looking packaging, and it smells faintly of roses, but that's where the good things end. This made my face feel really greasy, and my makeup didn't look set at all, it actually looked more like it was sitting on top of my skin. It also leaked constantly when I was spraying it, not cool! 2 out of 5 stars here.
Overall, the top picks are the Feel Refreshed Spray and the Mario Badescu Green Spray. All things considered, and price is always one of them, if you're looking for one spray to pick up, I would go with the Mario Badecu Green. It comes in a larger size as well, but I dig the more purse-friendly 4 oz.
I hope this beauty mist review was helpful!
What do you all think of them? Hype or worth the grab? I'd love to hear!