This post is sponsored by Gozon. All thoughts and opinions are my own.
OK, wow. NYFW really did take it out of me.. From the travel, to the mass amount of content I had to sift through, I definitely needed to take a substantial break before hopping back on here! I have a lot to share with you all, but first want to say THANK YOU SO MUCH for following along on this journey over the past four years. It's been quite the wild ride, with more ups and downs than I'd ever want to fully elaborate on here. I would, however, love to share some of my top takeaways from blogging, and my outlook on my future content.
Blogging is expensive. Granted, there are cheaper ways to do things, especially if you're not a fashion blogger, in my opinion. I feel with home decor, you can swap out a few pieces, change the angle and time of day you're shooting, and it looks like a whole new space. With fashion, so many people are concerned with the allure of the new. And I will admit, I've had those moments too. I remember once when my photographer was shooting a new dress of mine that she looked down at the bag I was holding and said, "We've already shot that one before, so I'll just focus on the rest of your outfit." For some materialistic reason, that struck a cord in me that I should have a new bag/pair of shoes/etc. for every look we shot. THIS IS NOT ATTAINABLE or realistic and will have you racking up the credit card bills in no time. Things like website hosting, security, photographers, props, travel, etc., are all parts of the job that you can't really get away from. So many people I talk to still think that blogging is showing up and taking pictures, which brings me to my next topic…
People think that blogging is not a real job. Granted, I don't blog full-time yet, but so many folks I share my story with think that blogging could never be self-sustaining, lucrative, or a respectable way to make a living. One look at some of the top ladies of Instagram, think Chrishelle Lim, Jenny Bernheim, Rachel Parcell, and on, and it's easy to nip that "lucrative" comment in the bud right away. The respect and self-sustaining bit are earned, and come with time. Side note, I have to pay taxes from blogging, so that sounds pretty real to me haha!
Beware the mean girls. Yes, this is a competitive industry, and no, not everyone in it is a snob. But boy, there are some real winners out there! I was at a Simply conference last year and left my notepad on my front-row seat to hold my spot so I could go grab a water bottle (it was July, hello!?), and when I returned, it had been flung on the ground and someone else was sitting in my spot. The occupant gave me a snarky look, chuckled, and then went back to talking to her friend. Fun. I've also been privy to conversations of girls talking poorly about other bloggers, body shaming, slut shaming, the whole nine. It would be like high school when they'd say "Oh, let's not invite her to come because _____." It's SO important in this industry to stay true to your morals and not be swayed by the mean girls to turn nasty.
You get a lot of free stuff. It's pretty cool, I will attest to that for sure, but I also have about 35 sheet masks from different brands in my bathroom right now, waiting to be tested. I have dozens of lipsticks I've used once, and more jewelry than one person should reasonably own. Again, it's cool, but it also has filled my house with clutter, and I feel quite glutenous and guilty at times.
Lastly, You don't have to be perfect! I've spent hours before getting ready to take one perfect shot, only to find that my tag was sticking out, my hem was turned up, or the item I spent 20 minutes steaming was wrinkly after a car ride. I've learned to stress less on the little details, and especially on things that are beyond my control when shooting, at events, and everything in-between.
If it seems like the above is mostly negative, I didn't mean it to be, I just started typing and that's what came out. I truly LOVE blogging, and creating lovely content, honest product reviews, and styling tips with you all. There are so many amazing people I've met through blogging, and wouldn't change any of the bad stuff if it meant we wouldn't have crossed paths. My future content will definitely be true to my style, be budget-conscious, and honest to the core. I've heard some influencers say they won't speak poorly of a brand on their channels, because they wouldn't want that brand or any other to know that they would say something that wasn't 100% positive, but I don't believe in that philosophy at all. You are coming to me for the truth, and there are generally good and bad to most things. I did an Insta Story poll recently asking just this, and an overwhelming 97% of you voted you'd like to see all types of reviews, not just the stuff that I loved. Good thing I love speaking my mind 😀
Now, can we please talk about this outfit for a moment? I was looking for a boho-inspired gauzy white blouse, and was thrilled to find this style on Gozon.com. Gozon is a women's contemporary boutique, offering up new styles daily. They're also super reasonably priced, as the average cost for a dress is around $30-50. My top here is only $31, and I'm wearing a size L for reference. That's another thing I dig about Gozon clothing, is the sizing seems to always work for me, whether I order an L or XL. Their shipping is also super fast, and items usually get to me a couple of days after ordering because they're based out of LA.
I paired this lace blouse with some olive moto leggings, my spring-standard espadrille wedges, layered gold jewelry, and a fun tribal-print woven tote. You'll definitely catch me wearing this to brunch, on a casual date night, or while doing some shopping around town.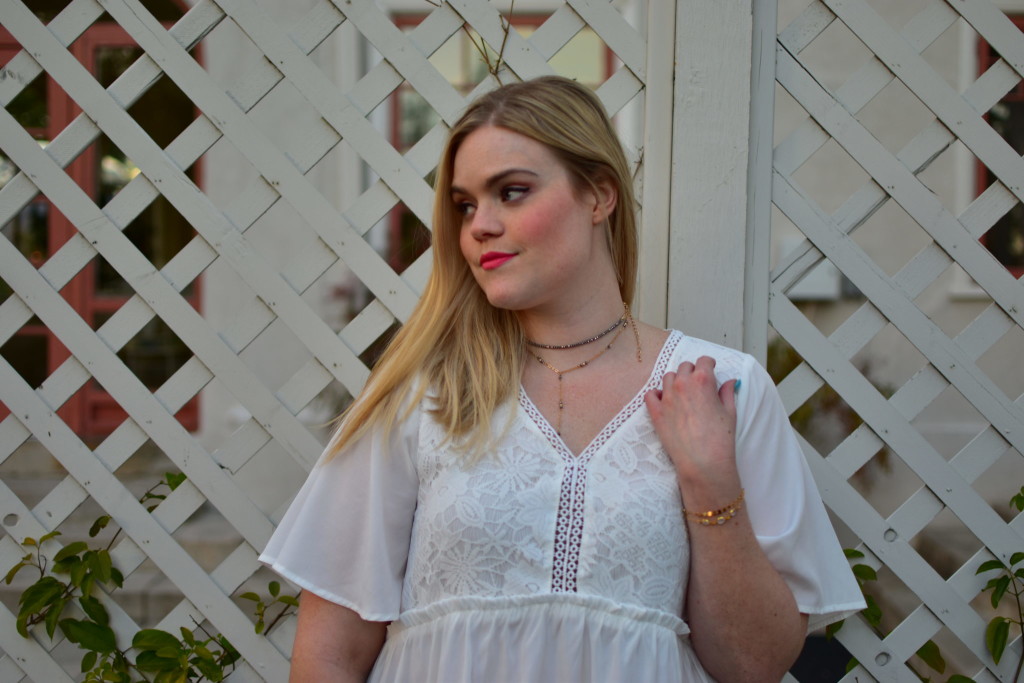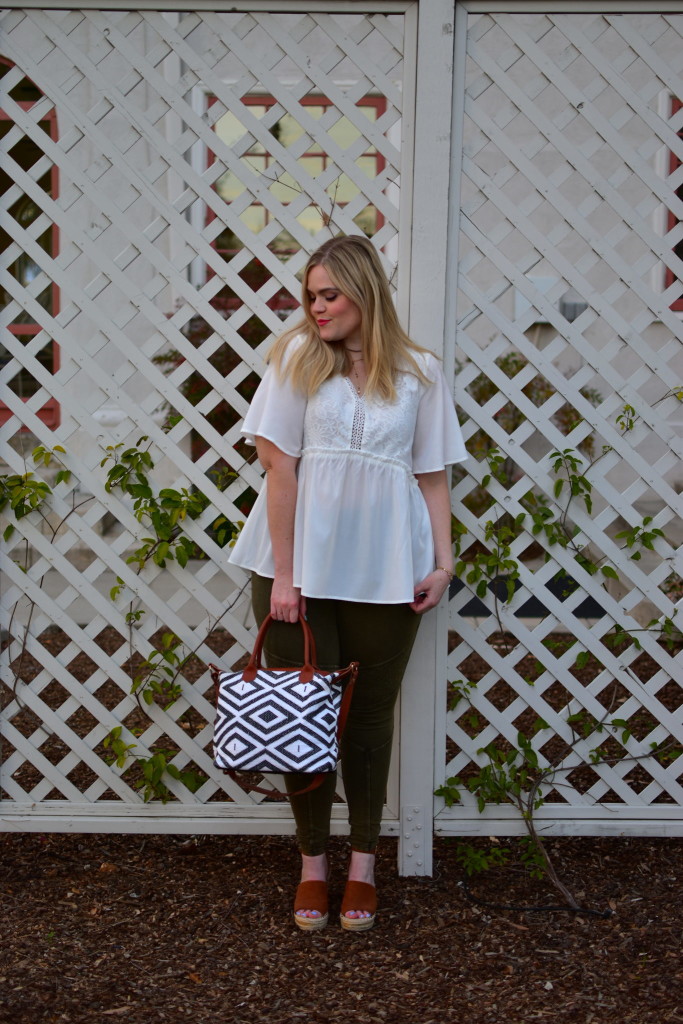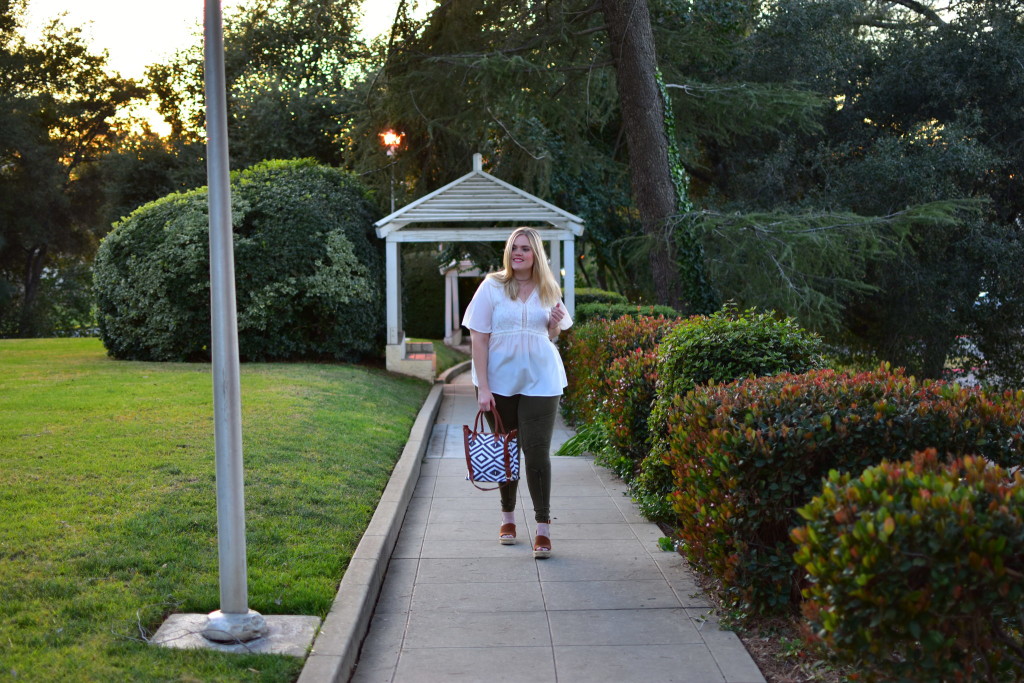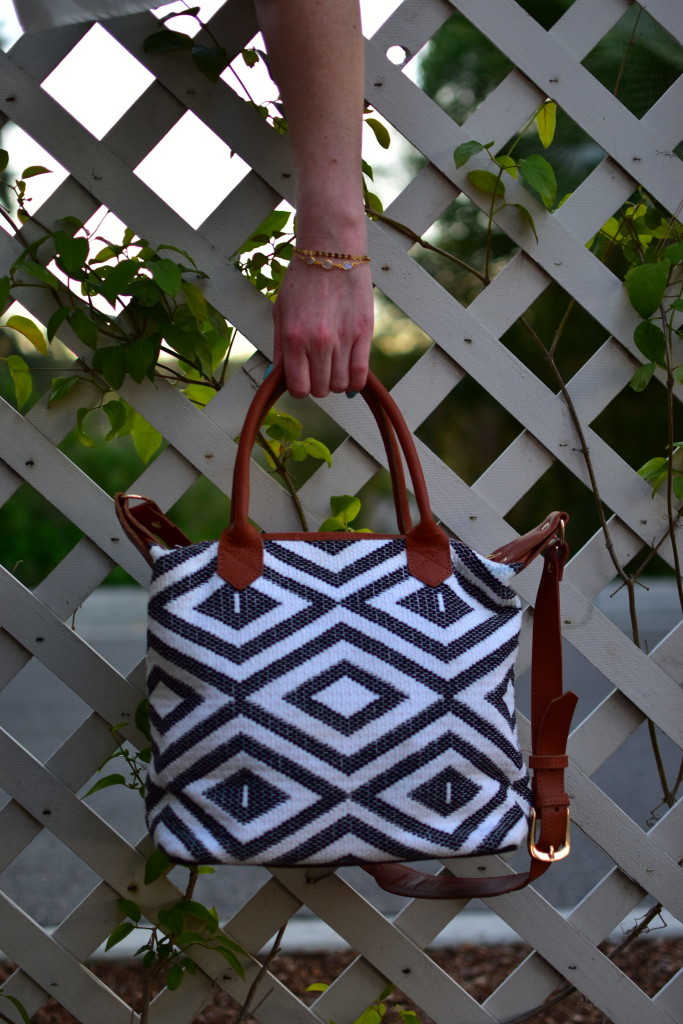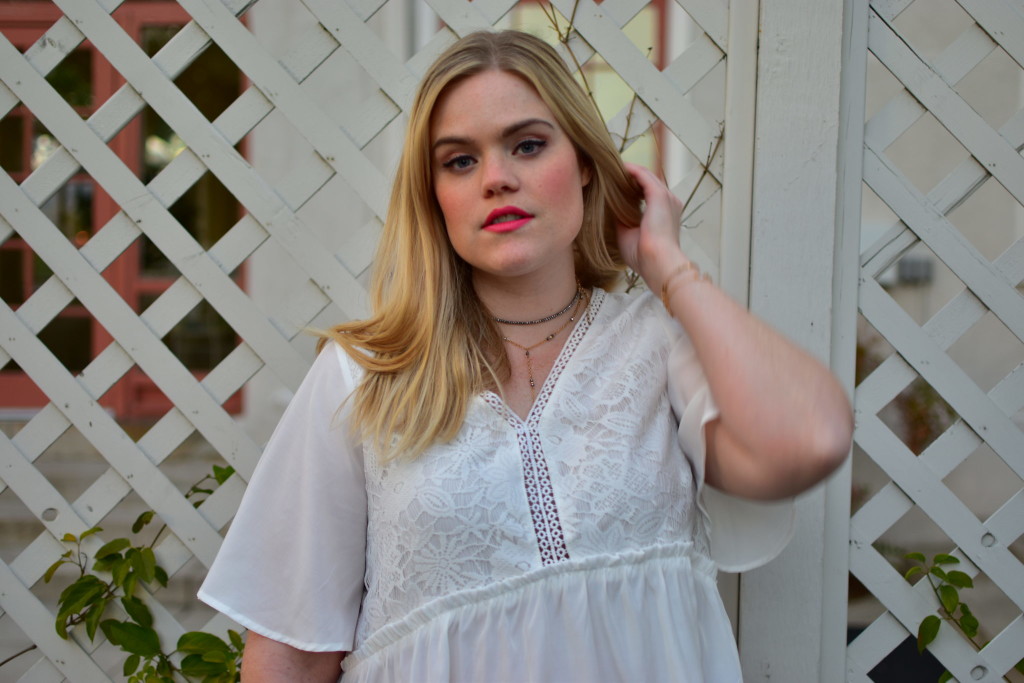 Top c/o Gozon // Leggings / Nordstrom // Wedges / JustFab // Tote / TribeAlive from the Box of Style // Bracelets / Kyle Chan Design // Choker / gift / Necklace / Ettika
Thanks again for following along on my journey. To the next four years! 😀