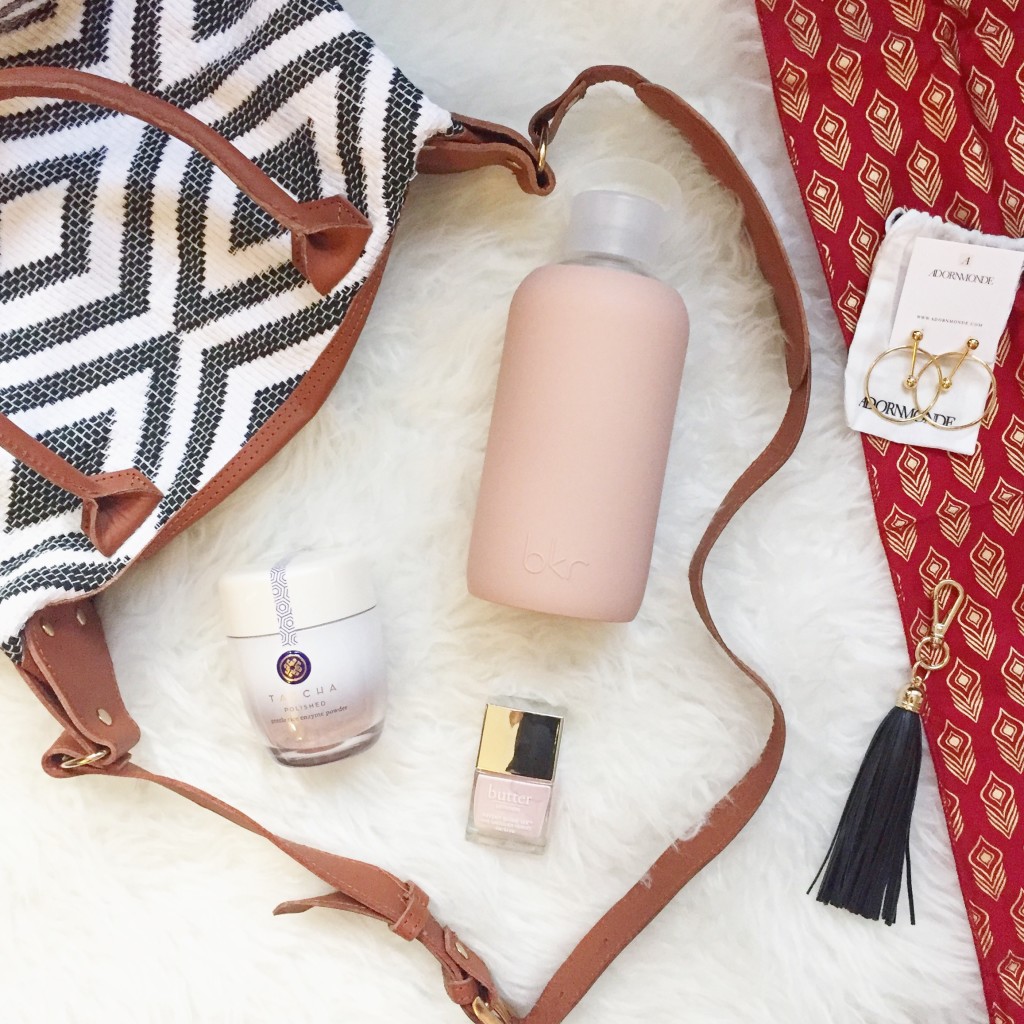 Hello, loves!
Let me first say how excited I was to finally receive the Spring Box of Style from the Zoe Report! It's almost worse when you get teasers of which items will be in a subscription box; I'm starting to think I'd rather just be surprised haha! I definitely was looking forward to the "hero" item, which did not let me down.
Before I get ahead of myself, I wanted to share that this exact box is currently $20 off when you use my link here and code "FRIENDS20" at checkout until midnight on Friday, April 14th! Now, without further ado, so you can know if it's even worth it haha, here is my Spring Box of Style Review!
First up, the "hero" item, this versatile bag from Tribe Alive. Retail is $238, which I personally wouldn't have paid for it, just because I wouldn't spend that much on a bag right now. It is very well made, the leather and woven material look very high-end, and I love that it has some structure to it, and is quite roomy. It did take a while to relax and had the "folded" look for the first week I had it, so don't expect to wear this one straight out of the box. The second time I wore it out, I had a woman try to find it online right then and there so she could buy it, she loved it so much! Thumbs up to this item!
Next up is the multi-way earrings from Adornmonde (retail $62). Subscribers were given the choice between gold and silver, but I didn't really care because my ears aren't pierced! I reached out to Team Zoe and was informed that there wasn't another option to choose from, so these will be re-gifted. No value in these guys for me.
The Symbology scarf (retail $50) was also an item I wasn't quite sure about… The color (a true red), doesn't immediately speak to me as a spring item, and the shape isn't something I reach for in my current scarf collection. I honestly haven't worn it yet, and might wait until summer, when I'm breaking out my brighter colors. I love the idea of it artfully tied over the strap of a bag, but I'm not one to wrap a scarf around my arm or as a necktie. Others may find this item more worthwhile.
I'd been wanting to try the Tatcha skincare brand for some time, and am happy to have received the Polished Gentle Rice Enzyme Powder (retail $65). Again, a little pricier than I normally spend for an exfoliating product, but this one is pretty cool. The packaging is gorgeous, and this very gently foamed up and scrubbed away dead skin, leaving my skin feeling pretty fresh and clean. I didn't notice any discernable scent, but I'm completely fine with that. Perhaps not a product I'd purchase again, but glad that I'm getting to test it out.
Another item I was stoked about was the glass water bottle from BKR. After seeing these babies all over the internet, I knew that I wanted one but didn't want to invest the $35 they go for. It is, of course, heavier than regular plastic bottles, but you also aren't going to risk anything leaching into your water. Plus, the color is SO pretty.
Lastly, as part of the box, the Butter London nail polish in Piece of Cake (retail $18). This one I was a bit disappointed in. I did three layers, because you could still see my nail with only two coats. It chipped very easily and looked uneven and slightly chalky. I haven't used many polishes from this line before, but it doesn't have me wanting to search out more shades.
I did also receive, as an annual subscription member, this adorable tassel keychain, which I adore. It's been on my keychain since the day I got it, and I love the little bit of flair it gives to something usually pretty mundane.
One thing that was pretty cool about this season's box is that everything in it came from female-founded brands. The only thing that didn't was the item not pictured here, the Stella Artois chalice. I still have no idea why this was included, as it seemed so out of place. It does have a really pretty etched pattern on it, just not sure it's relation to the other products.
All in all, I'm loving the bag, the water bottle and the keychain. I value the box at about $160, in terms of the use I will get out of the items, which is not a bad deal at all! If you're interested in subscribing, for one season, or an annual membership, use my link here to sign up!
This post contains affiliate links. Purchasing items through these links may provide me with a small commission. All thoughts and opinions expressed in this post are my own.