Hello loves!
I wanted to share with you all an event I attended recently at the Grove, the Simply Stylist LA Conference. It's not my first time at this annual gathering, although last time I didn't spring for the VIP package, big mistake! With the better, albeit much pricier ticket, I was able to enjoy breakfast, several incredible speaking panels, lunch at the French restaurant on-site, a "brand experience" on the lawn and then specialized sessions from industry experts, and ending the day with a killer gift bag. But first, let me start from the beginning..
I started my morning with a little chia pudding with fruit and coconut cream. It was simple, but so tasty. After breakfast, we all headed inside one of the theatres and waited for the panels to commence.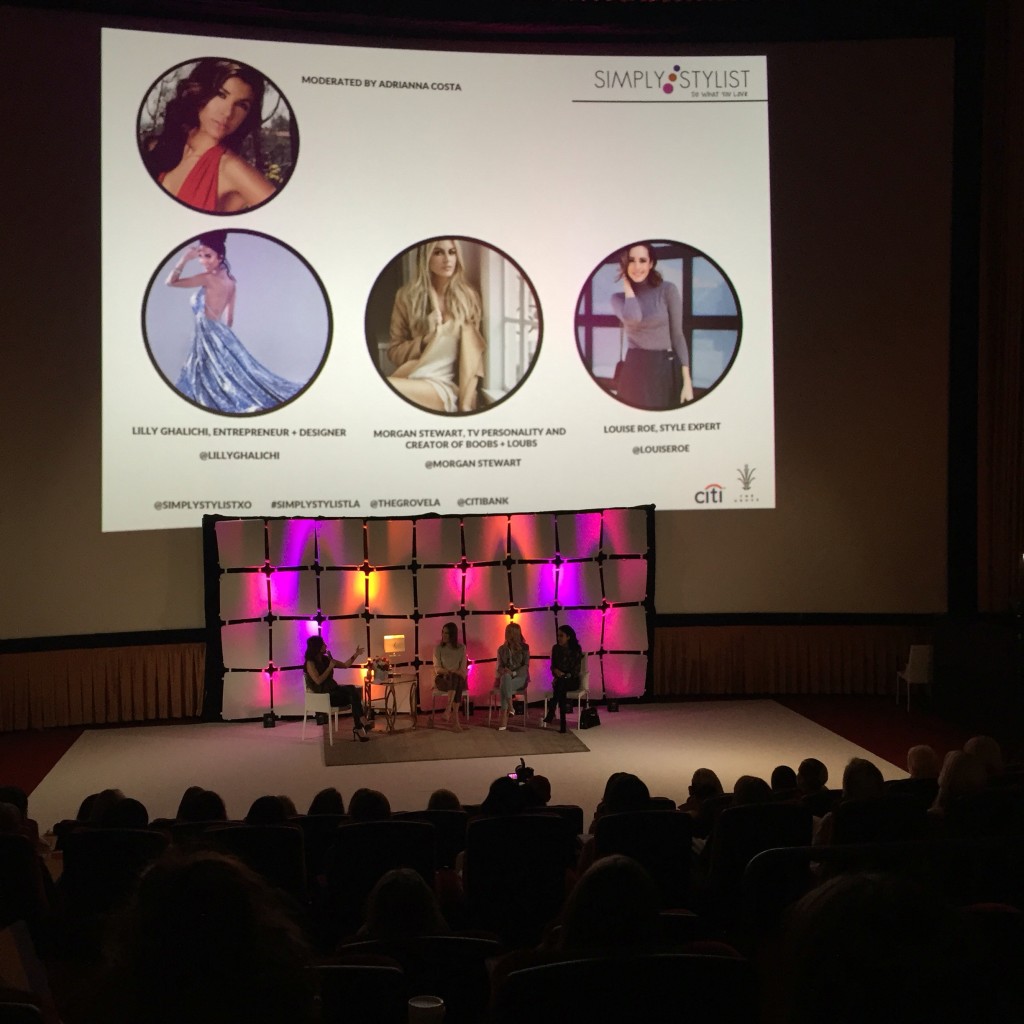 The first panel was moderated by Adrianna Costa, and featured some of my favorites from the entire event.. Louise Roe (such a humble, humorous woman), Morgan Stewart (outspoken and hilarious), and Lilly Ghalichi, who I knew from the first year of The Shahs of Sunset that I indulgently watched. I always thought she was a classy girl who knew exactly where she was going, and hearing her confidently speak about who she is and how she got there was inspiring. I loved Morgan's honestly, and although I will admit I had not heard of her or seen her show before, I will definitely be on the lookout for her new book. Louise Roe seemed like someone I would want to spend the day with. She was so relatable and knowledgeable on many industry topics and I would love to sit with her and for lack of a better phrase, pick her brain some more.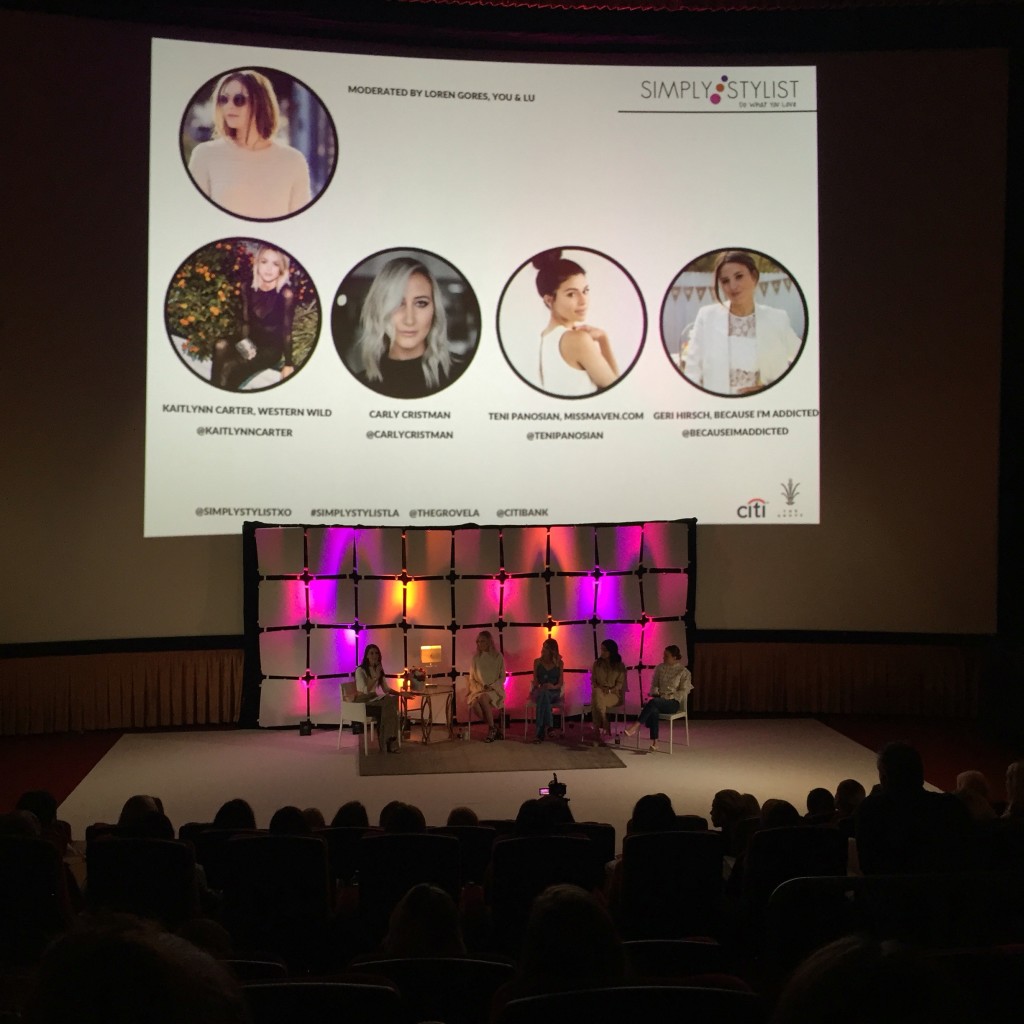 Next up was the bloggers panel. It was hosted by the friendly and approachable (and smokin' hot!) blogger behind You & Lu, Loren Gores (more on my interaction with her later!). This panel included Carly Cristman, Kaitlynn Carter, Teni Panosian and Geri Hirsch. I'd previously heard about all of the panelists in this set, but I was super excited to hear from Teni, whom I'd been following for a while now. I love her soothing voice and her realness when something doesn't go to plan (bug bites or an upset stomach when on vacation? She shares it all). She also is freaking gorgeous (girl crush moment) and has great personal style. I will say though that this panel was mostly taken over by Carly. I feel that she answered questions way more frequently than any other panelist and threw the balance off. I wanted to hear from everyone, but she definitely wanted to share more with us.
So after this panel, S.K. from Styles for Thought and I wanted to take some pictures, because, why not? S.K. writes a sustainable fashion blog and beautifully curated Instagram and we instantly clicked while listening to the panelists. I truly admire her point-of-view, bringing awareness to the production behind the clothes.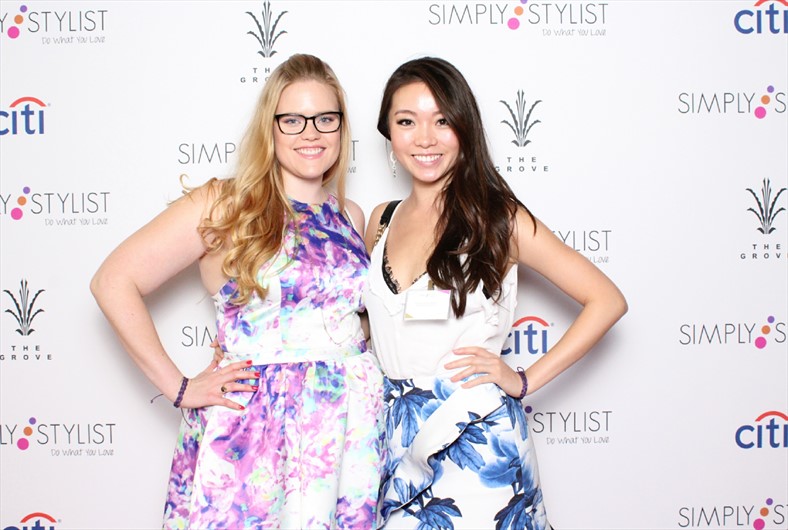 My dress is from Parker (you can rent it using this link, but I actually loved it so much I purchased it while visiting the Rent the Runway warehouse in New Jersey last year), my glasses are Warby Parker, my ring is Kyle Chan Design and my heels (pictured above) are Nine West.
Right after taking pics, we saw that Loren from You & Lu was hanging out, talking with some other bloggers, so we joined in the convo. I could not believe how easy she was to speak with and how friendly and inviting she was. We discussed her workout routine to get that killer booty and Snapchatted for her followers on the way to lunch at The Morels restaurant.
Awaiting us at The Morels was this pretty table setting with a supremely generous gift from Kendra Scott. I love Kendra Scott jewelry and was crossing my fingers that tucked inside was a pretty little bracelet or ring, but I had a momentary bit of sadness when I peeked inside and saw a pair of earrings. My ears are not pierced, so as beautiful as they are, I couldn't wear them. I decided to re-gift them to one of my followers, and currently have a giveaway going on Instagram, if you'd like to check it out!
We dined on herbed chicken, grilled mixed veggies, salad and pasta, and I was pretty underwhelmed. I think that happens sometimes when restaurants try to cater to hundreds of people.. Overcooking, leaving things out for a while, etc. I'll get the rest of the negative stuff out of the way, because I like to share all of the details. The table that we picked was half full when we arrived, and I sat next to Geri Hirsch. Her back was turned to me the entire time and it was kind of off-putting. I would have love to have chatted with her a bit, but she wasn't having any of it. While eating my lunch, I was knocked in to twice by Sydne Summer of Sydne Style and her enormous handbag, and the second time she looked down at me and scoffed, as if I was in her way, when I was just sitting in my seat, enjoying the atmosphere. Definitely a low point of the day, because I'm not about bitchiness when we're aiming to build each other up! But I digress.
Next, we were treated to an impassioned speech by Caitlin Crosby, the founder of The Giving Keys. She shares the story of how the Giving Keys came to be, and I could not have admired her more. It's a beautiful thing when people want to give back to the community, while simultaneously creating wearable pieces of art to cherish.
She was so gracious and generous to allow us all to pick our favorite piece, and I chose a delicate little gold key with "love" inscribed across it.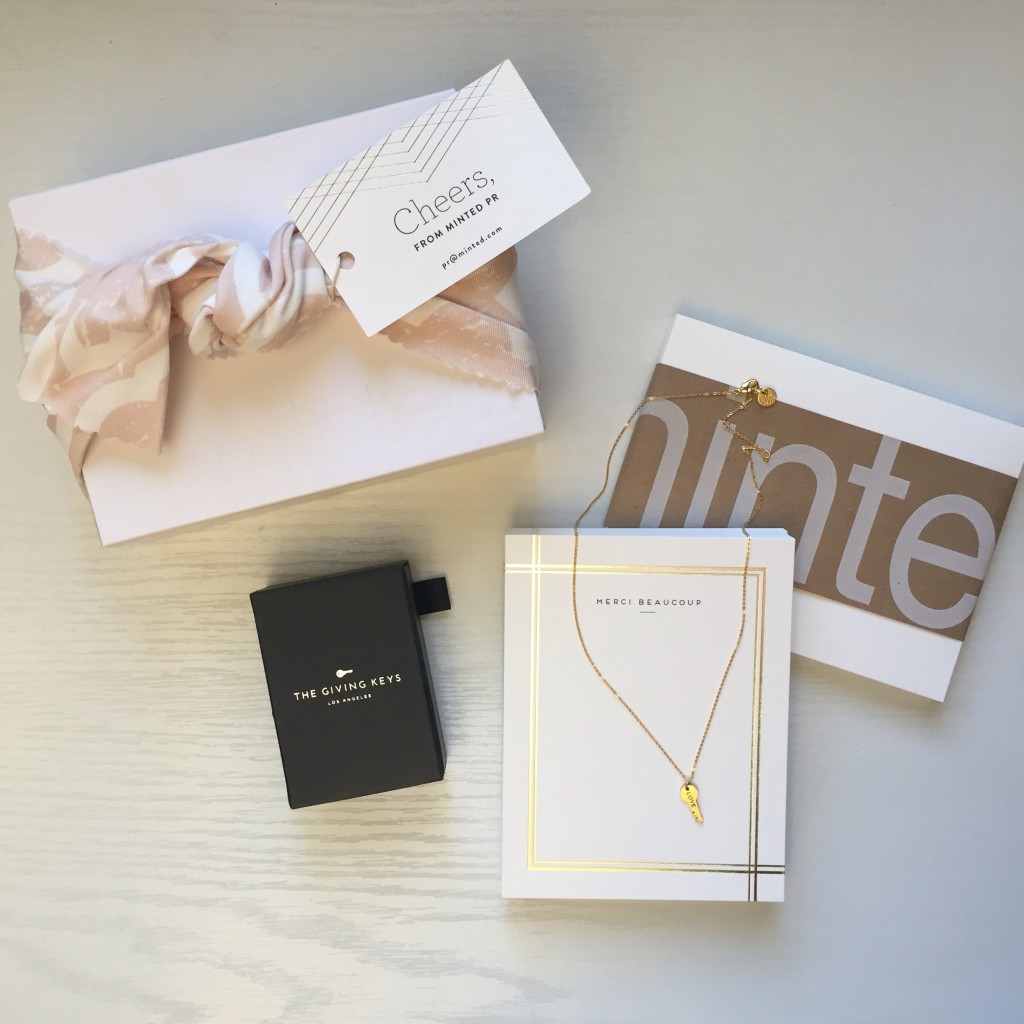 Also pictured are the adorable cards I was gifted from Minted. They say "merci beaucoup" in gold, so obviously I love them, as I have a deep affection for all things gold.
After lunch, we headed back to the theatre and listed to a stylist and hair stylist, who admitted they were nervous and a little tipsy, respectively, which I think affected the quality of their stories and authority on the subjects they were discussing.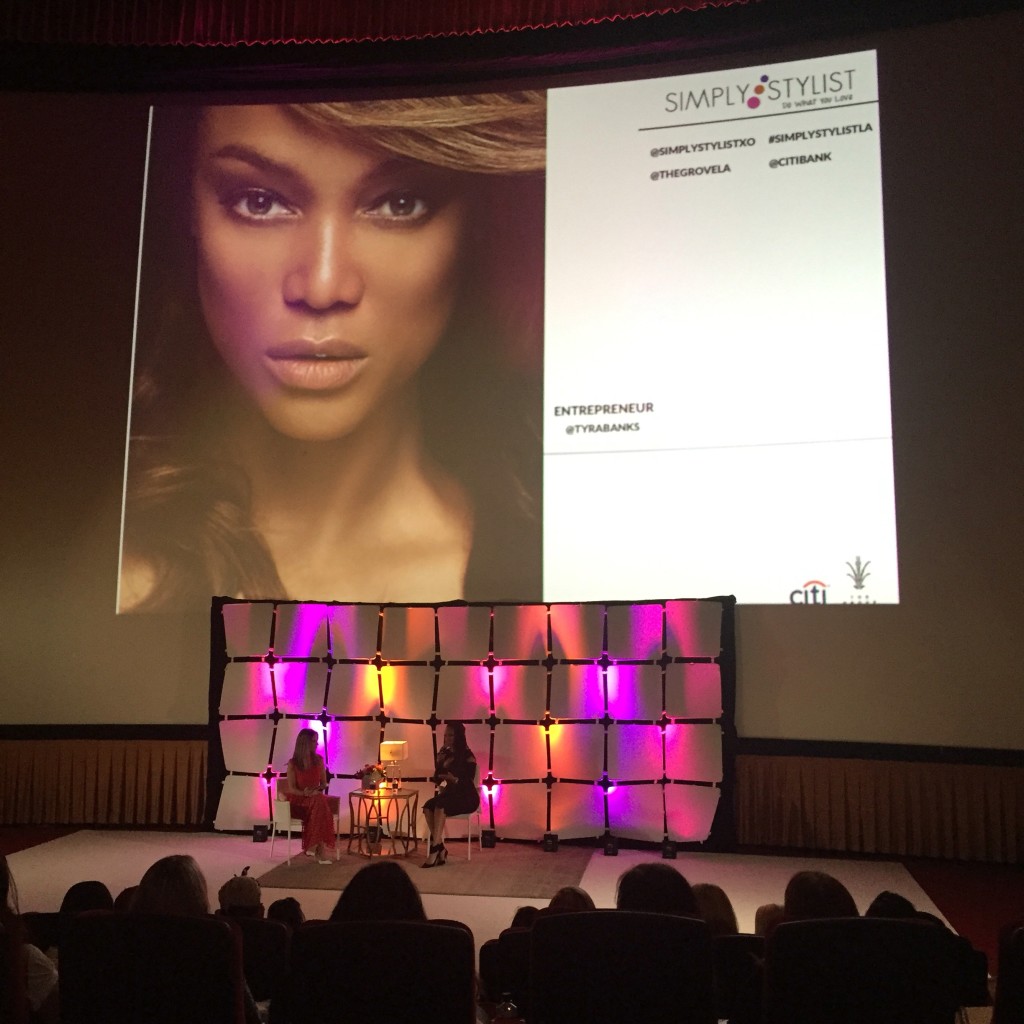 The last, and arguably most-anticipated speaker of the day was Tyra Banks. It was really interesting hearing about how America's Next Top Model came to be, her early days in the modeling industry, and how she's developed a new makeup line that uses an Avon-like business model. I felt like she was pushing the makeup line a bit, and I was excited to try some of it, but was surprised to not find any of it in the VIP gift bag. In a room full of bloggers and influencers, I would have figured it was the perfect time to introduce a makeup line, but what do I know 😉 Cat Sadler was Tyra's interviewer and I think she did a phenomenal job at keeping the crowd engaged with cute little jokes and her high energy.
We then headed across the way to the grassy area, where brands like Kendra Scott, Want my Look, Minted and others had set up to show us everything new they had to offer. I fell in lust with several Kendra Scott pieces before heading over to the specialized sessions. To be honest, I feel that these were mostly for people just starting out, and didn't really give me a whole lot of new information. From what I remember, there was a group of girls who started a hair stylist representation group, a financial advisor who was VERY passionate about what she was talking about, a petite blonde blogger named Sophie Elkus (Angel Food Style), Cali Cholodenko, whom I'd listened to earlier speak on social media, and Kristen Phillipkoski, who basically just interviewed someone else instead of contributing content of her own.
After the sessions, I met up with Mark and we started on the two hour drive back home.
Without further ado, here's a look at my loot from my VIP gift bag…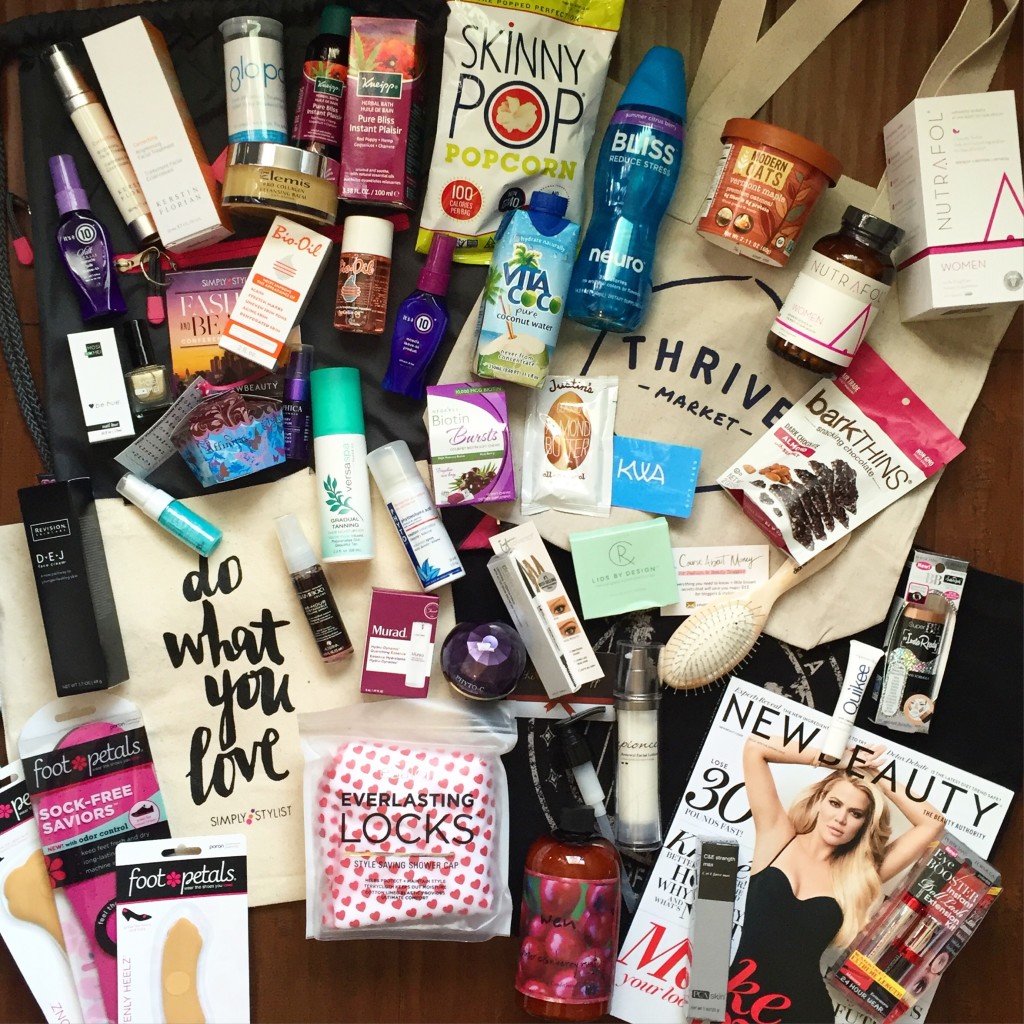 So much crazy-good stuff.
I was really impressed that I was gifted everything from makeup and skincare, vitamins to tasty snacks.
So to break it down, I paid $225 to be inspired by leaders in the fashion & blogging industries, a couple of light meals, and a jam-packed gift bag, valued at I'm guess at least double my price of admission. Would I go back? Yes, absolutely! I would also wear flats next time 😉