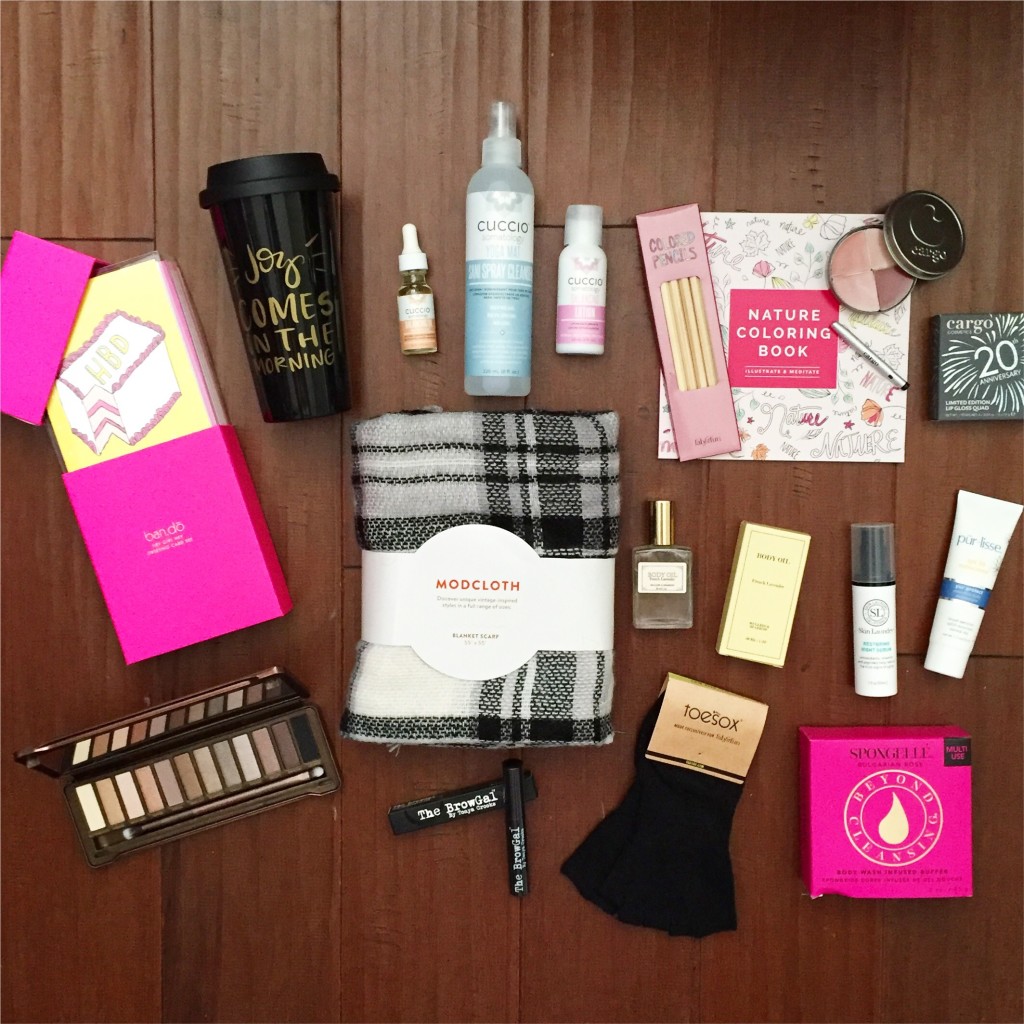 A new season has arrived, and with it, the FabFitFun fall reveal!
I was definitely looking forward to this box, because I knew it would be full of pretty little things to make the best of the cooler weather. I've broken down all of the contents of this subscription box into a couple of categories, because there was just so much jam-packed in to it! Read all the way to the bottom for a $10 off discount code 😉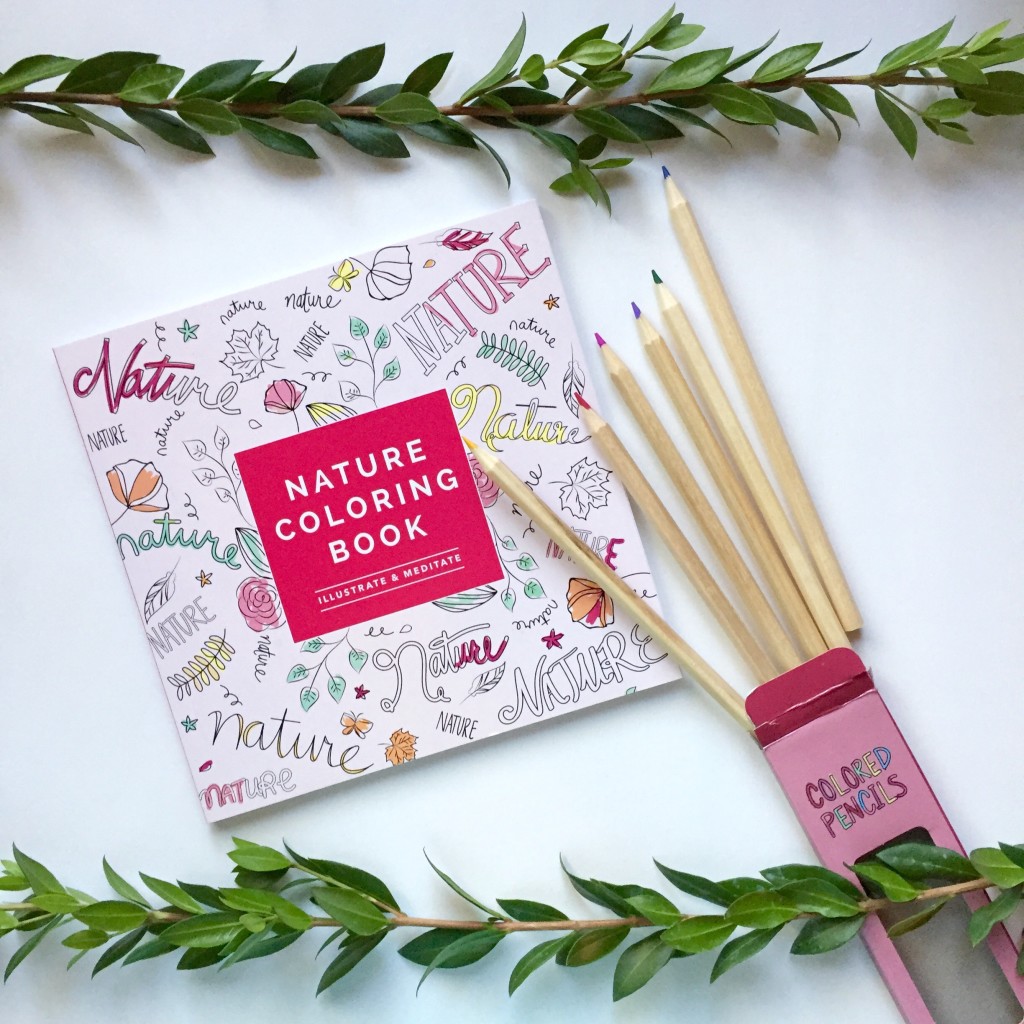 Coloring book & coloring pencils – FabFitFun
I was stoked to receive another coloring book and new pencils! I thoroughly enjoy the one I already have, which is of underwater creatures, but was in need of a more beginner-level version. This one is full of flowers and other pretty things and each page can be completed in a night, as opposed to a week for the larger, more detailed designs. I also think it's fantastic that when purchasing add-ons, I was given the option to donate to Pencils of Promise, a global community that's focused on increasing access of quality education for children in developing countries.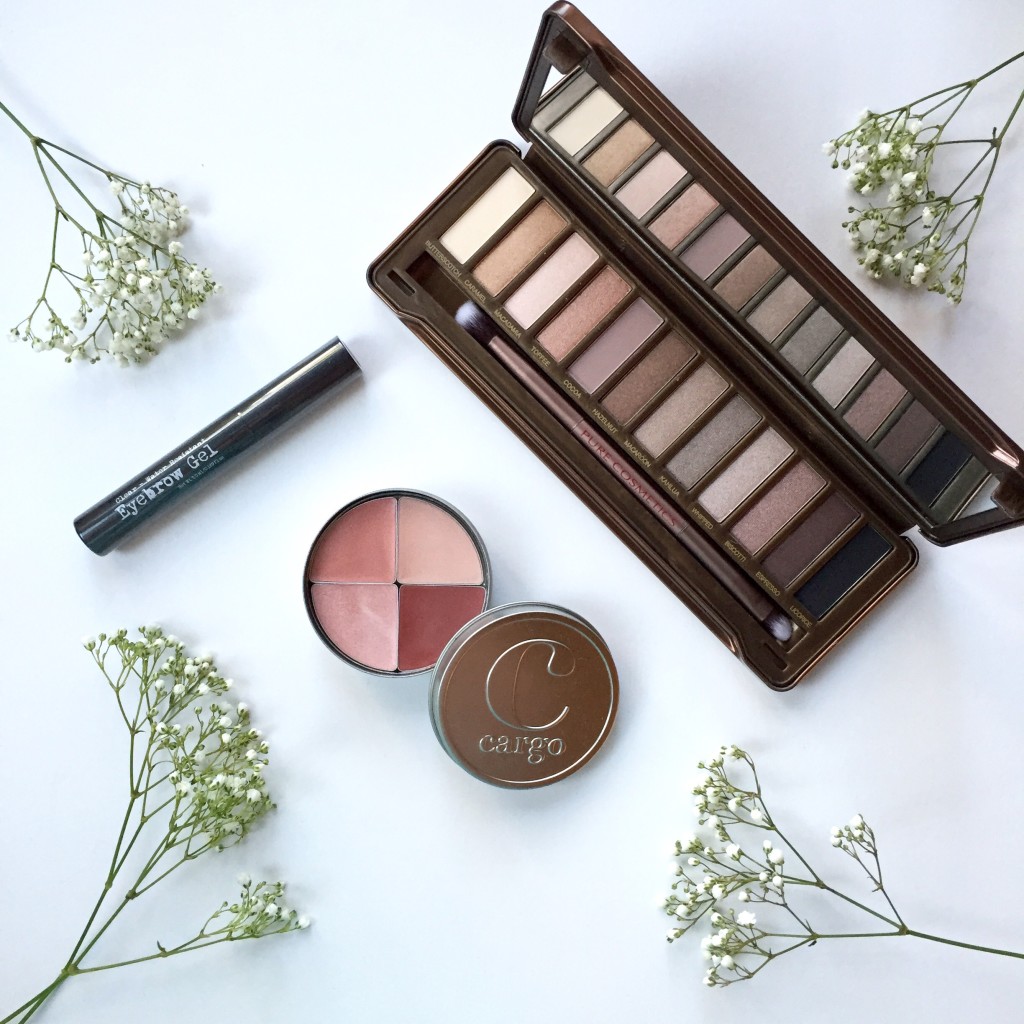 Now for the makeup, always one of my favorite categories!
I've held off on getting any of the Naked palettes, for one reason or another, and it must have been because I knew that this Nude Collection palette from Pure Cosmetics ($50) was coming my way. I've found the pigments to be true, long-wearing, and I love that this palette can take your eye look from natural to super-smoky depending on the shades you use.
The Cargo lip gloss quad was an add-on purchase for $9 (down from $20). I've been a longtime fan of Cargo and the classic tin packaging is definitely nostalgic for me, as I used to collect them about a decade ago!
Always in search of the perfect brow products, I generally prefer a tinted gel, because I think they look more natural and add a bit of pigment to brows. This water-resistant version from The Browgal is clear, but I do like that it holds brows in place through working out and a night of dancing.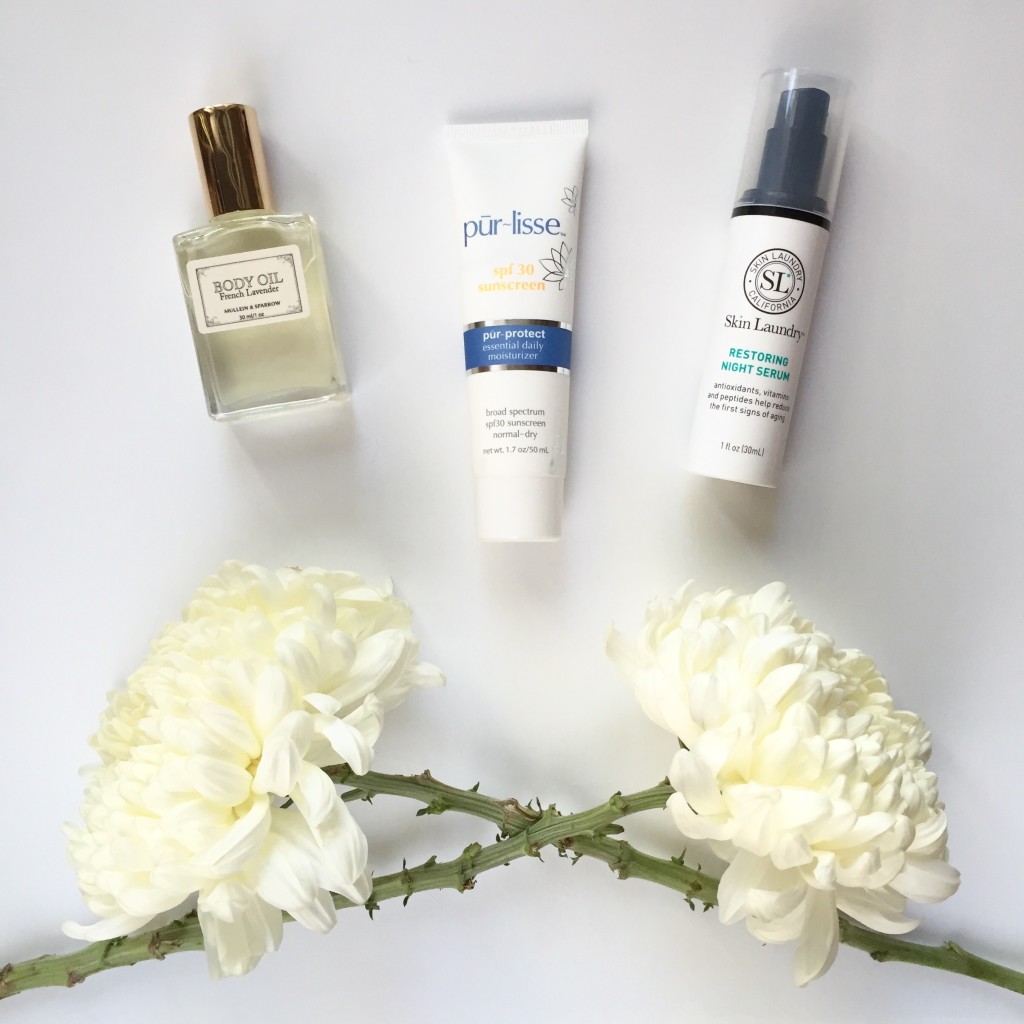 The Purlisse sunscreen ($9) was an add-on, and a product I already know that I love. It's a perfect combination of moisturizer and sunscreen and does a great job at both.
The Skin Laundry Restoring Night Serum ($50) I have only remembered to use a couple of times, to be honest, because washing my face is the last thing I do before going to sleep and most nights I'm so tired, I simply forget! I have noticed my skin nice and smooth when I wake up, and I'm definitely going to take it with me when I travel.
I've never been a fan of body oils, because I feel that they are always so messy! They get all over the bottle, the counter, and anything you touch after using them. I can't say that this French Lavender mini version from Mullein & Sparrow ($18) is any different, because pouring oil out of a glass bottle is decidedly not the cleanest method of dispensing it, but I do feel that it left my skin moisturized and I loved the delicate lavender scent.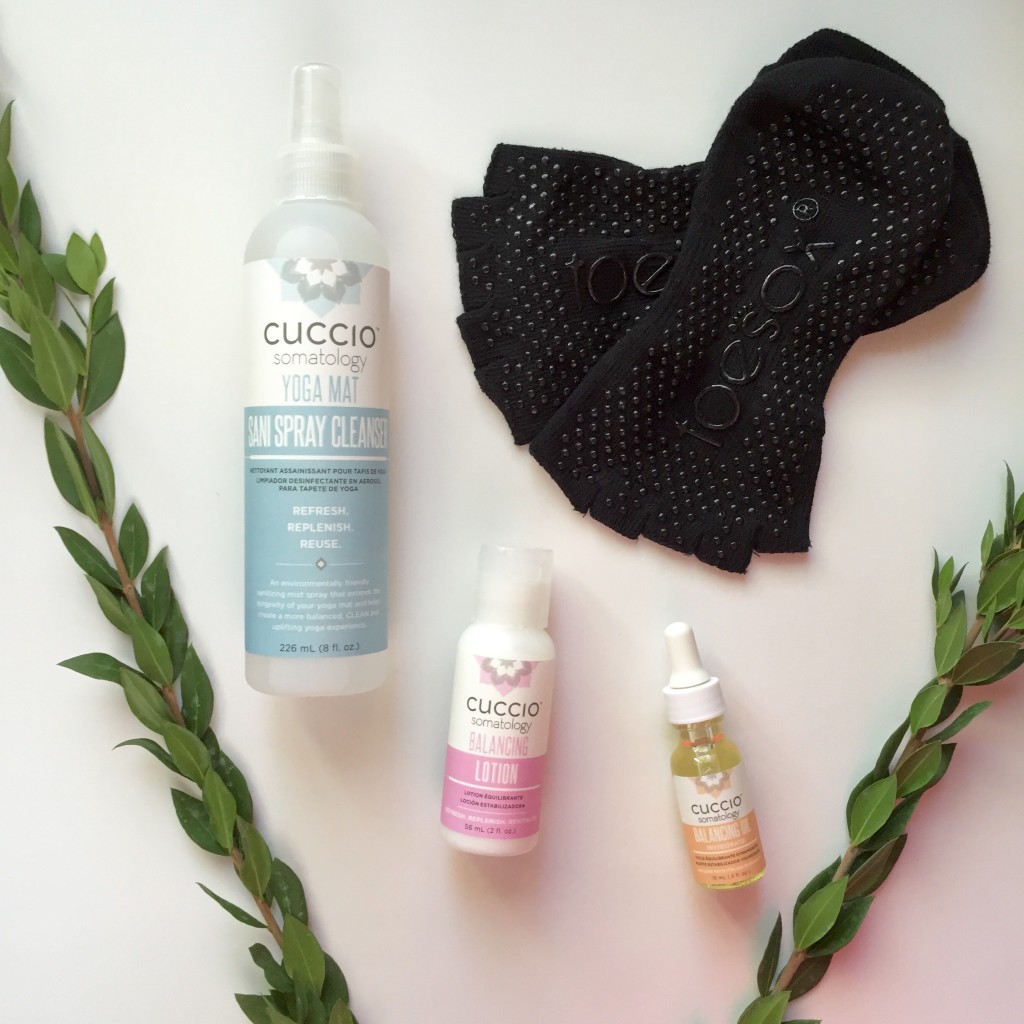 (That's what I get for wearing a hot pink shirt while using a reflector haha!)
I added on this Cucio Somatology Yoga Essentials Kit for $19 and I've already made great use of it. The Mat Spray leaves a gorgeous fresh scent on something that rarely smells gorgeous or fresh. I also love the balancing lotion and oil for giving me a sense of calm if I'm feeling a little stressed out.
I already own another pair of toeless foot socks, but these from Toesox ($18) will definitely come in handy once those get worn out. They're a great addition to your Pilates or yoga practice.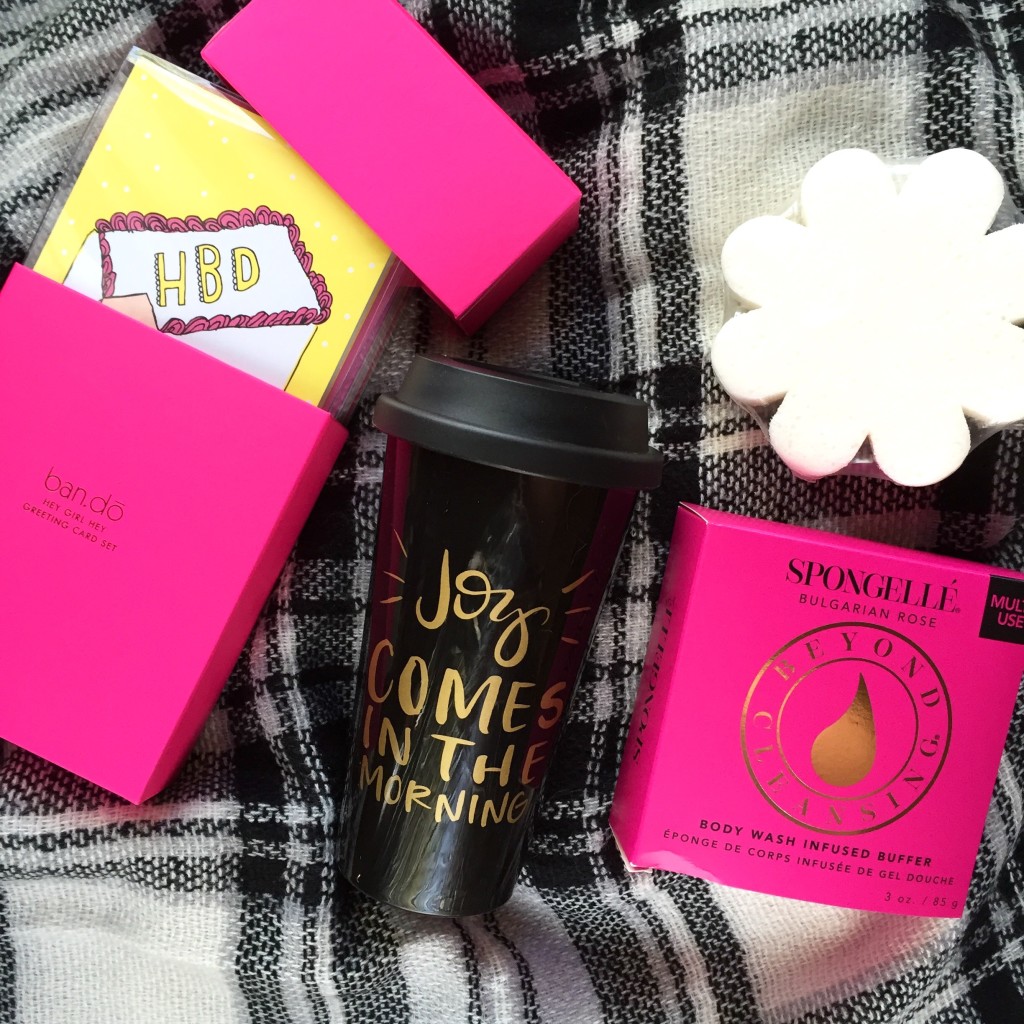 Last but not least, the fun stuff!
The Ban.do greeting card set ($10) was a great find. The cheeky sayings and cute pictures will brighten up the day of my friends and family when I send them off.
I really wanted the coffee cup that said "good morning, gorgeous!" because that's what Mark says to me every morning, but instead I got the "joy comes in the morning" saying. I've only used this cup once and I was not impressed. My tea that was boiling hot at home was room temp by the time I got to work. It also made a whistling noise when I sipped from the cup. Not my favorite.
Another kind of odd item is the Spongelle Bulgarian Rose Body Wash Infused Buffer ($16). It smells divine, first and foremost, but it's not very practical. You could never travel with it, I can't imagine it drying out properly between uses, and I can't imagine it's going to last enough uses to make it worth the retail price tag.
Who couldn't use another plaid scarf for fall?! Again, I was hoping for a different version, but I guess that's why it makes it more ideal to purchase the year of FabFitFun boxes in advance. That way, you get to have options and choose the version you like best. I'll still gets tons of use out of this black and white Loch and Key blanket scarf from Modcloth ($35).
All in all, this box was DEFINITELY worth the price of admission. It contains over $250 worth of items for $49.99. If you're interested in signing up for the FabFitFun Fall box (they're still available!) or the upcoming winter box, feel free to use my link here and code "FALL20" when checking out for $10 off your first box, making it only $39.99!
This post contains affiliate links. I may receive a small commission if you click on or purchase items through these links. This is what helps keep Dressed for Time going! All opinions stated are my own, and I will always give my honest thoughts on any items or subscription boxes I post about.